There was heartbreak and horror in Duxbury and elsewhere in Massachusetts Wednesday as people struggled to process the deaths of two local children, allegedly at the hands of their mother.
Members of the Clancy family were in disbelief less than 24 hours after Lindsay Clancy allegedly strangled her two older children; her youngest child also remained in a hospital for treatment.
The Plymouth County District Attorney's Office announced Wednesday night that an arrest warrant had been issued for Clancy, who is being charged with two counts of homicide, three counts of strangulation and three counts of assault and battery with a deadly weapon. She is in police custody in a Boston hospital.
Prosecutors didn't speculate on what they suspected may have motivated the killings. But the kids' great-grandmother, Rita Musgrove, said she talked with their mother at the home about a week ago and nothing seemed amiss.
"It's a pretty shocking thing, and it is heartbreaking," she said as she left flowers at the family's home.
Neither she nor an aunt of the children were yet able to process what happened.
"They were just beautiful, beautiful children. Well cared for — they were just beautiful, that's it. They had a beautiful life," aunt Donna Jesse said.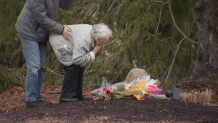 It's unknown what led up to this terrible outcome, but there can be common themes in tragedies like these.
"We do often see mental health challenges, perhaps depression, but could also be psychosis, and some sort of losing touch with reality," said Professor Abbie Goldberg, who teaches a class in True Crime at Clark University and is also an expert in families.
She says a parent may believe they're saving their children from something catastrophic.
"Certainly a sense of desperation, often a feeling of being unable to control one's circumstances, and perhaps the sense that you want to spare your children from something," said Goldberg.
Town Manager René Read was emotional as he spoke about the tragedy at a news conference Wednesday, saying of first responders at the scene, "When they tell me it's the worst I've ever seen, it's going to have an impact."
He and other town officials noted that there's been an outpouring of support from near and far. He urged anyone who wants to help not to donate cash but to call the police and fire departments to arrange food drop-offs.
"The town of Duxbury is tremendously grateful for the support," Read said.
Pilgrim Church opened its doors on Wednesday to give people a place to gather and process what happened.
"When children are involved, especially, there is a special numbness that comes with that. That word has come up a lot today," Rev. Bill Ferguson said.
Duxbury Public Schools released a statement that began, "The recent tragedy in our community is heartbreaking." It offered resources for students, staff and families who are affected by what happened, including a mental health care and substance abuse coordination service provided by the district.
More on the Duxbury killings