Reports of major flooding poured in from coastal Massachusetts communities following a record-tying high tide on Thursday afternoon.
Parts of Causeway Street, Morrissey Boulevard and Seaport Boulevard in Boston were completely underwater, and the harbor side entrance at the MBTA's Aquarium Station was shut down temporarily after it flooded. Video showed water flowing down the stairs like a river into the subway station.
The worst flooding occurred at high tide at 12:40 p.m. Boston's high tide gauge hit 15.1 feet, tying the all-time record from the Blizzard of 1978.
"The tidal surge came in here pretty heavy," Fire Commissioner Joseph Finn said. "We had a lot of water down here. Probably a 3-foot tidal surge down the whole area of the coastline."
South of the city, multiple cars were reportedly stuck in flood waters along Newport Avenue Extension in Quincy ahead of high tide. About 20 people had to be rescued. Flooding was also reported in the Squantum neighborhood, with water into houses. Several neighborhoods had to be evacuated and a shelter was set up at Quincy High School.
"The city has been hit very hard," Quincy Mayor Thomas Koch said. "We're experiencing major flooding issues."
In Chelsea, fire officials reported that raw sewage was backing up into the street from a Massachusetts Water Resources Authority facility. Chelsea firefighters also said they rescued at least 35 people from vehicles trapped due to flooding.
Further north, an entire parking lot full of cars at Gloucester High School was submerged.
Local
In-depth news coverage of the Greater Boston Area.
Record Flooding Strands Motorists, Forces Evacuations
Even historic Plymouth Rock, one of the state's top tourist attractions, was underwater, to the point that you wouldn't have known it was there.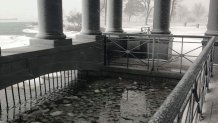 Finn said many of the buildings in Boston's Seaport District were compromised, with water in basements where electrical transformer units are housed. Firefighters were planning to go building by building to assess what needs to be shut down.
"It's key because of the weather and the cold, and we don't want to shut anything down that we don't have to," he said, "but we also want to err on the side of safety and we certainly don't want a fire to be sparked down here."
Greater Boston wasn't the only area impacted Thursday. Coastal communties from Portland, Maine all the way down to the South Shore of Massachusetts experienced flooding of some sort.
On Dyke Street in Marshfield, a mother and two children had to be rescued, while firefighters made three other single-vehicle rescues on nearby roads.
And in Revere, police responded to a report of people trapped in a basement on River Road due to high flood waters.
Newburyport police said a few people were evacuated on Plum Island due to flooding. Several streets in the city also had to be closed due to high water.
Nantucket was forced to close several roads in the downtown area due to flooding.
Several roads in Dennis had to be shut down due to flooding.
There were also reports of people trapped in flood waters in Hull and Lynn, and several roads in Nahant and Orleans that were impassable due to flooding.
Downtown Portland, Maine, was underwater, and parts of Route 1A in Seabrook, New Hampshire were flooded out.
Earlier Thursday, the boats in Rockport were rocking and the wind was howling as the storm moved in. Snow was blowing by mid-morning and it only intensified through the afternoon.
Rockport resident Mike Kern had his home boarded up ahead of concerns of high winds, high tide, coastal flooding and power outages.
"We've got the house boarded up right now, but hopefully the waves stay down where they're supposed to be," he said.
Even as the storm moved in, some New Englanders were braving the elements to see the roaring waves up close.
"It's going to be wicked bad, it's going to be wicked cold. That's for sure," said Rockport resident Ted Twombly.
Further down the coast, town officials in Scituate and nearby Marshfield advised people who live along the coast and in neighborhoods that flood to evacuate by 10 a.m.
NBC 10 Boston Weather Team Projections: When Will the Storm Hit, And How Much Snow Will You Get?
As the storm was moving in, a few families were doing just that in Scituate.
"The house was literally shaking this morning when I got up," said Will Boyle, who was evacuating.
"We're gonna get out of dodge. After the remnants of Hurricane Jose... I understand this is going to be a monster. Head for cover," said Dr. Mary Feeney, who was also evacuating.
Scituate officials got their water rescue truck, "The Buffalo," ready on Wednesday in preparation for having to use it.
In addition, they urged residents to take steps to protect their properties before the storm due to the expected high tide. They also requested help from the National Guard.
"At this point, we don't know the severity, but we want them to start making plans for anything that can occur," Scituate Town Administrator Jim Boudreau said.
Residents like Mike Graffeo did what they could to best prepare for the storm.
"We put 40 bags down, and we have 40 in the truck for tomorrow," Graffeo said.
Scituate resident Joe Collins also spent Wednesday preparing, recalling a famous storm from decades ago.
"I grew up here, was here for the Blizzard of '78, then left for 30 years, and I'm back — and don't know why," Collins said.
In Hull, Police Chief John Dunn urged people to stay off the roads if possible, because any additional vehicles on the road would make it more difficult for his department to respond to emergencies.
"It's going to be dangerous with the high winds at the same time the astronomical high tides are coming into town," he said.
Over in Barnstable, utility crews were being staged so they could move at a moment's notice to fix any downed power lines.
"People need to be prepared at home," said Kevin Morley, a spokesman for Barnstable County Regional Emergency Planning Committee. "They should have 72 hours of supplies in case there's a power outage or roads are very hard to travel on."