After a quiet day of weather Tuesday with stubborn coastal clouds and some Cape Cod flurries and sprinkles, the wind will gradually turn to blow more from the east – off the ocean – and this will allow some of the clouds to expand inland.
Aside from the damage done by wind and waves, these clouds are the last remaining vestiges of the powerful nor'easter that hit this past weekend.
Our next storm is drawing closer from the Midwest and will spread thickening clouds over the region overnight tonight.
TIMELINE: Early Warning Weather Team Breaks Down Nor'easter
Some morning flurries and snow showers are possible off the ocean Wednesday morning, but the main shield of precipitation will move in from the southwest, reaching central Connecticut by late morning, and both expanding and intensifying snow and rain showers over eastern New England from lunch hour onward.
By late day and evening, steady and heavy snow and rain will be falling, and while rain is most likely near the coast at first, Wednesday evening and night should see enough cooling of the atmosphere to change most areas to snow, with the change taking place last on Cape Cod, but by that point, there's question to how moisture will actually be left to fall. As a result, we're forecasting much less snow from the Boston metro points southeast than someplace outside of Route 495 and farther north/west.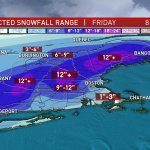 A small change in track will have big implications. Wind will be much less with this storm than the last – gusts of 50 to 60 mph on Cape, but only 30 to 40 mph elsewhere, which means isolated wind damage at worst.
Local
In-depth news coverage of the Greater Boston Area.
Coastal flooding may be minor at the high tide predawn Thursday – that means typically vulnerable areas, but those areas have been hit hard recently, so even a little water can be problematic.
[NATL] Extreme Weather Photos: Record Heat Threatens Europe
Snow ends early Thursday morning for most, but lasts into the afternoon for Maine and northern New England, then the weather quiets until another storm chance Sunday night through Monday in the exclusive Early Warning Weather 10-day.
Download our free mobile app to stay on top of the latest developments with this storm and more.