It was a fine line between being buried under three feet of snow and seeing mostly rain on Tuesday. Some areas of Massachusetts saw only an inch of snow, while others -- like tiny Colrain in the northwestern part of the state -- saw piles of it.
More rain than snow fell in Greater Boston, but significant snowfall collected around inland communities in Massachusetts, Vermon and New Hampshire.
The northern Berkshires, the Worcester hills and northern New England got the most snow, with some communities surpassing 30 inches. Snowfall rates will range about an inch per hour through the mid-afternoon Wednesday but will slowly maintain rates of over half an inch per hour. Boston will see snowfall rates around half an inch that will slowly decrease.
PHOTOS: Nor'easter Drops Snow Across New England
How much snow's fallen where you are? Here's a map that you can explore: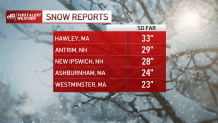 Here were the latest snowfall major totals according to reports gathered by the National Weather Service, as of around 5:30 a.m. on Wednesday.
| | | |
| --- | --- | --- |
| Time of Report | Municipality | Inches of Snow |
| 08:30 pm EDT - 3/14/2023 | MARLBORO, VT | 36 |
| 05:00 pm EDT - 3/14/2023 | COLRAIN, MA | 36 |
| 07:00 pm EDT - 3/14/2023 | ROWE, MA | 35 |
| 06:48 pm EDT - 3/14/2023 | 2 WNW PETERBOROUGH, NH | 35 |
| 06:00 pm EDT - 3/14/2023 | 5 NW READSBORO, VT | 34.9 |
| 05:20 pm EDT - 3/14/2023 | HAWLEY, MA | 33 |
| 04:22 pm EDT - 3/14/2023 | 1 E GREENVILLE, NH | 33 |
| 03:30 pm EDT - 3/14/2023 | 2 NNE MARLBORO, VT | 32.4 |
| 05:28 pm EDT - 3/14/2023 | 1 ESE PLAINFIELD, MA | 32 |
| 04:45 pm EDT - 3/14/2023 | WINDSOR, MA | 31 |
| 11:21 pm EDT - 3/14/2023 | LANDGROVE, VT | 30.4 |
| 06:00 pm EDT - 3/14/2023 | BENNINGTON, NH | 30 |
| 05:00 pm EDT - 3/14/2023 | 2 S CHESTER, MA | 29 |
| 07:00 pm EDT - 3/14/2023 | ASHBY, MA | 29 |
| 03:59 pm EDT - 3/14/2023 | 3 WNW PETERBOROUGH, NH | 29 |
| 04:36 pm EDT - 3/14/2023 | ANTRIM, NH | 28.5 |
| 12:05 pm EDT - 3/14/2023 | 1 WNW WILMINGTON, VT | 28 |
| 12:00 pm EDT - 3/14/2023 | WILMINGTON, VT | 28 |
| 08:30 pm EDT - 3/14/2023 | 3 N AUSTERLITZ, NY | 27.8 |
| 09:24 pm EDT - 3/14/2023 | 1 SE PAXTON, MA | 27.5 |
| 11:36 pm EDT - 3/14/2023 | HANCOCK, MA | 27 |
| 06:00 pm EDT - 3/14/2023 | WASHINGTON, NH | 27 |
| 07:42 pm EDT - 3/14/2023 | 2 N FRANCESTOWN, NH | 27 |
| 06:20 pm EDT - 3/14/2023 | WESTON, VT | 27 |
| 12:32 pm EDT - 3/14/2023 | 1 SE CHESTERFIELD, MA | 26.5 |
| 07:00 pm EDT - 3/14/2023 | 1 WSW ASHBURNHAM, MA | 26.5 |
| 07:10 pm EDT - 3/14/2023 | ASHBURNHAM, MA | 26.4 |
| 04:30 pm EDT - 3/14/2023 | 2 ESE WINHALL, VT | 26 |
| 06:06 pm EDT - 3/14/2023 | 4 NW ASHBURNHAM, MA | 26 |
| 03:35 pm EDT - 3/14/2023 | 2 SSW PRINCETON, MA | 26 |
| 02:43 pm EDT - 3/14/2023 | 2 SW ASHBY, MA | 25.8 |
| 06:00 pm EDT - 3/14/2023 | AUSTERLITZ, NY | 24.8 |
| 04:30 pm EDT - 3/14/2023 | 1 ESE ARLINGTON, VT | 24.3 |
| 10:00 am EDT - 3/14/2023 | SAVOY, MA | 24 |
| 08:59 am EDT - 3/14/2023 | 1 E PLAINFIELD, MA | 24 |
| 07:18 pm EDT - 3/14/2023 | BECKET, MA | 24 |
| 06:15 pm EDT - 3/14/2023 | OTIS, MA | 24 |
| 03:55 pm EDT - 3/14/2023 | GREENVILLE, NH | 24 |
| 09:29 pm EDT - 3/14/2023 | NEW LONDON, NH | 24 |
| 05:14 pm EDT - 3/14/2023 | 2 S NEW IPSWICH, NH | 24 |
| 06:25 pm EDT - 3/14/2023 | 1 SE HUBBARDSTON, MA | 24 |
| 04:41 pm EDT - 3/14/2023 | 1 SW GARDNER, MA | 24 |
| 10:22 am EDT - 3/14/2023 | NEWFANE, VT | 24 |
| 06:10 pm EDT - 3/14/2023 | PAXTON, MA | 24 |
| 03:46 pm EDT - 3/14/2023 | 3 W MARLOW, NH | 24 |
| 07:17 pm EDT - 3/14/2023 | 2 ENE SHREWSBURY, VT | 23.2 |
| 10:00 pm EDT - 3/14/2023 | 3 S SANDISFIELD, MA | 23.1 |
| 01:07 pm EDT - 3/14/2023 | 2 N PERU, VT | 23 |
| 06:00 pm EDT - 3/14/2023 | CLARKSBURG, MA | 23 |
| 01:45 pm EDT - 3/14/2023 | 1 W WESTMINSTER, MA | 23 |
| 12:40 pm EDT - 3/14/2023 | 1 W ASHBURNHAM, MA | 23 |
| 06:30 pm EDT - 3/14/2023 | BRATTLEBORO, VT | 23 |
| 04:57 pm EDT - 3/14/2023 | 4 SSW LEOMINSTER, MA | 23 |
| 09:48 pm EDT - 3/14/2023 | 2 NNE PITTSFIELD, MA | 22.5 |
| 08:53 pm EDT - 3/14/2023 | 2 WNW WALTHAM, VT | 22.5 |
| 06:53 pm EDT - 3/14/2023 | 2 N ACWORTH, NH | 22.5 |
| 06:30 pm EDT - 3/14/2023 | CROWN POINT, NY | 22 |
| 09:41 am EDT - 3/14/2023 | HEATH, MA | 22 |
| 01:13 pm EDT - 3/14/2023 | GOSHEN, MA | 22 |
| 03:10 pm EDT - 3/14/2023 | 3 N AUSTERLITZ, NY | 21.8 |
| 07:00 pm EDT - 3/14/2023 | BECKET, MA | 21.5 |
| 10:06 pm EDT - 3/14/2023 | 2 NE NEWPORT, NH | 21.5 |
| 09:00 am EDT - 3/14/2023 | WINDHAM, VT | 21.4 |
| 09:00 am EDT - 3/14/2023 | 6 W WEST BRATTLEBORO, VT | 21.4 |
| 08:00 am EDT - 3/14/2023 | 2 NNE MARLBORO, VT | 21.4 |
| 09:33 am EDT - 3/14/2023 | 3 ENE WINDSOR, MA | 21 |
| 10:30 pm EDT - 3/14/2023 | BERLIN, NY | 21 |
| 04:00 pm EDT - 3/14/2023 | TEMPLETON, MA | 21 |
| 07:00 pm EDT - 3/14/2023 | 2 ENE PITTSFIELD, MA | 20.5 |
| 06:12 pm EDT - 3/14/2023 | 1 ESE FITCHBURG, MA | 20.4 |
| 12:06 am EDT - 3/15/2023 | PITTSFIELD, MA | 20 |
| 06:16 pm EDT - 3/14/2023 | HARTFORD, NY | 20 |
| 06:26 pm EDT - 3/14/2023 | GRANVILLE, NY | 20 |
| 06:00 pm EDT - 3/14/2023 | 2 E SOUTH SHAFTSBURY, VT | 20 |
| 08:49 pm EDT - 3/14/2023 | ADAMS, MA | 20 |
| 12:11 pm EDT - 3/14/2023 | 3 SE LEMPSTER, NH | 20 |
| 05:17 pm EDT - 3/14/2023 | 2 NNE NEWPORT, NH | 20 |
| 07:03 pm EDT - 3/14/2023 | MT. HOLLY, VT | 20 |
| 09:49 am EDT - 3/14/2023 | 2 N EAST DOVER, VT | 20 |
| 12:37 pm EDT - 3/14/2023 | 3 NE PRINCETON, MA | 20 |
| 12:30 am EDT - 3/15/2023 | WOLFEBORO, NH | 19.6 |
| 06:09 pm EDT - 3/14/2023 | 1 NE FITCHBURG AP, MA | 19.4 |
| 12:07 pm EDT - 3/14/2023 | 2 NNW STERLING, MA | 19.3 |
| 05:58 pm EDT - 3/14/2023 | 1 NE LUNENBURG, MA | 19.1 |
| 03:55 pm EDT - 3/14/2023 | 1 W DANBY FOUR CORNERS, VT | 19 |
| 07:00 pm EDT - 3/14/2023 | 3 S NEW ASHFORD, MA | 19 |
| 07:40 pm EDT - 3/14/2023 | 1 ENE SPOFFORD, NH | 19 |
| 08:00 pm EDT - 3/14/2023 | HOLDEN, MA | 19 |
| 04:00 pm EDT - 3/14/2023 | PHILLIPSTON, MA | 19 |
| 12:00 pm EDT - 3/14/2023 | STERLING, MA | 18.5 |
| 10:00 pm EDT - 3/14/2023 | 1 E LENOX, MA | 18.2 |
| 11:15 am EDT - 3/14/2023 | DALTON, MA | 18 |
| 06:30 pm EDT - 3/14/2023 | CANAAN, NY | 18 |
| 11:00 am EDT - 3/14/2023 | PERU, MA | 18 |
| 06:06 pm EDT - 3/14/2023 | 2 SE NEWPORT, NH | 18 |
| 02:30 pm EDT - 3/14/2023 | 2 S SAXTONS RIVER, VT | 18 |
| 08:49 pm EDT - 3/14/2023 | 1 WNW HOLDEN, MA | 18 |
| 11:16 am EDT - 3/14/2023 | 2 SSE FITCHBURG, MA | 18 |
| 09:44 am EDT - 3/14/2023 | BUCKLAND, MA | 18 |
| 05:44 pm EDT - 3/14/2023 | 3 N HILLSBOROUGH, NH | 17.8 |
| 06:27 pm EDT - 3/14/2023 | 1 WSW LONDONDERRY, NH | 17.8 |
| 05:28 pm EDT - 3/14/2023 | SHAFTSBURY, VT | 17.5 |
| 08:09 pm EDT - 3/14/2023 | 1 S CLAREMONT, NH | 17.5 |
| 07:41 pm EDT - 3/14/2023 | 2 ENE NORTHWOOD, NH | 17.2 |
| 07:02 pm EDT - 3/14/2023 | 2 NW CHESTER, NH | 17 |
| 04:59 pm EDT - 3/14/2023 | 1 N DEERFIELD, NH | 17 |
| 07:22 pm EDT - 3/14/2023 | 1 E MILFORD, NH | 17 |
| 12:47 pm EDT - 3/14/2023 | 1 W HOLDEN, MA | 17 |
| 12:10 pm EDT - 3/14/2023 | 1 NE PAXTON, MA | 17 |
| 09:00 am EDT - 3/14/2023 | 1 WNW WESTHAMPTON, MA | 17 |
| 02:00 pm EDT - 3/14/2023 | N BECKET, MA | 16.5 |
| 05:16 pm EDT - 3/14/2023 | MORETOWN, VT | 16.5 |
| 06:21 pm EDT - 3/14/2023 | 1 SW SANDOWN, NH | 16.5 |
| 10:15 am EDT - 3/14/2023 | 2 N SHREWSBURY, VT | 16.3 |
| 04:20 pm EDT - 3/14/2023 | 1 S NEW BOSTON, NH | 16.3 |
| 10:59 pm EDT - 3/14/2023 | LANESBOROUGH, MA | 16 |
| 08:49 am EDT - 3/14/2023 | 3 E AUSTERLITZ, NY | 16 |
| 02:53 pm EDT - 3/14/2023 | GRANVILLE, MA | 16 |
| 08:45 am EDT - 3/14/2023 | BLANDFORD, MA | 16 |
| 09:00 pm EDT - 3/14/2023 | WEST RUTLAND, VT | 16 |
| 07:49 pm EDT - 3/14/2023 | NORTHFIELD, VT | 16 |
| 09:00 am EDT - 3/14/2023 | 3 S LUDLOW, VT | 16 |
| 05:15 pm EDT - 3/14/2023 | 7 WNW GRANBY, CT | 15 |
| 02:21 pm EDT - 3/14/2023 | PETERSBURGH, NY | 15 |
| 04:20 pm EDT - 3/14/2023 | 3 W KEENE, NH | 15 |
| 02:29 pm EDT - 3/14/2023 | WARREN, VT | 15 |
| 08:18 pm EDT - 3/14/2023 | TOPSHAM, VT | 15 |
| 07:00 pm EDT - 3/14/2023 | 3 NW BARNARD, VT | 15 |
| 05:40 pm EDT - 3/14/2023 | 2 SE LACONIA, NH | 15 |
| 02:57 pm EDT - 3/14/2023 | GOFFSTOWN, NH | 15 |
| 07:00 pm EDT - 3/14/2023 | 1 NE LEOMINSTER, MA | 15 |
| 09:30 pm EDT - 3/14/2023 | 2 SW BROOKLINE, NH | 14.9 |
| 05:20 am EDT - 3/15/2023 | 1 S SOUTH HOOKSETT, NH | 14.8 |
| 06:00 am EDT - 3/14/2023 | SANDISFIELD, MA | 14.7 |
| 07:58 pm EDT - 3/14/2023 | 1 WNW PEPPERELL, MA | 14.6 |
| 07:17 pm EDT - 3/14/2023 | LENOXDALE, MA | 14.4 |
| 11:08 am EDT - 3/14/2023 | 2 SSE RINDGE, NH | 14.1 |
| 09:37 pm EDT - 3/14/2023 | 5 NE SHAPLEIGH, ME | 14 |
| 09:50 am EDT - 3/14/2023 | ANTRIM, NH | 14 |
| 02:46 pm EDT - 3/14/2023 | 1 ENE SPOFFORD, NH | 14 |
| 07:15 am EDT - 3/14/2023 | ANDOVER, VT | 14 |
| 03:00 am EDT - 3/15/2023 | HOOSICK FALLS, NY | 14 |
| 08:57 pm EDT - 3/14/2023 | HAMPSTEAD, NH | 14 |
| 03:08 pm EDT - 3/14/2023 | HUDSON, NH | 14 |
| 01:40 pm EDT - 3/14/2023 | 2 SSE SURRY, NH | 14 |
| 08:23 pm EDT - 3/14/2023 | WORCESTER AP, MA | 13.8 |
| 04:19 pm EDT - 3/14/2023 | 1 S NEW BOSTON, NH | 13.7 |
| 06:33 am EDT - 3/14/2023 | 6 SSW BECKET, MA | 13.3 |
| 10:26 am EDT - 3/14/2023 | 3 NNE ARLINGTON, VT | 13.2 |
| 04:38 pm EDT - 3/14/2023 | 3 NE CONCORD, NH | 13.2 |
| 09:50 am EDT - 3/14/2023 | 1 NNW HANCOCK, NH | 13 |
| 04:01 pm EDT - 3/14/2023 | 1 W PAWLET, VT | 13 |
| 07:46 pm EDT - 3/14/2023 | 2 N WAITSFIELD, VT | 13 |
| 06:08 pm EDT - 3/14/2023 | BUSKIRK, NY | 13 |
| 01:27 pm EDT - 3/14/2023 | 1 ESE MILFORD, NH | 13 |
| 12:00 pm EDT - 3/14/2023 | 4 NNE HANCOCK, MA | 13 |
| 10:00 am EDT - 3/14/2023 | W PITTSFIELD, MA | 13 |
| 12:00 pm EDT - 3/14/2023 | 5 WSW CHESHIRE, MA | 13 |
| 07:00 pm EDT - 3/14/2023 | CHESHIRE, MA | 13 |
| 06:00 am EDT - 3/14/2023 | 1 NW WESTHAMPTON, MA | 13 |
| 01:06 pm EDT - 3/14/2023 | 1 WNW CAVENDISH, VT | 12.7 |
| 07:59 pm EDT - 3/14/2023 | 2 WSW BURLINGTON, CT | 12.5 |
| 08:59 pm EDT - 3/14/2023 | 4 NE SHAPLEIGH, ME | 12.5 |
| 06:26 pm EDT - 3/14/2023 | 1 E MADISON, NH | 12.5 |
| 01:37 pm EDT - 3/14/2023 | 2 SW BROOKLINE, NH | 12.4 |
| 07:00 pm EDT - 3/14/2023 | PITTSFIELD, MA | 12.3 |
| 07:54 pm EDT - 3/14/2023 | HARTLAND, VT | 12 |
| 01:14 pm EDT - 3/14/2023 | 4 SSE WEARE, NH | 12 |
| 08:02 pm EDT - 3/14/2023 | 2 WNW SOUTH BARRE, VT | 12 |
| 02:30 pm EDT - 3/14/2023 | ALSTEAD, NH | 12 |
| 06:02 pm EDT - 3/14/2023 | 3 SE EAST WAKEFIELD, ME | 12 |
| 12:06 pm EDT - 3/14/2023 | 3 ENE DERRY, NH | 12 |
| 02:16 pm EDT - 3/14/2023 | 1 SSW GILSUM, NH | 12 |
| 12:30 pm EDT - 3/14/2023 | 1 E LENOX, MA | 12 |
| 05:06 pm EDT - 3/14/2023 | WORCESTER AP, MA | 11.7 |
| 07:00 am EDT - 3/14/2023 | PERU, VT | 11.6 |
| 09:30 pm EDT - 3/14/2023 | 1 SE WEST NORWICH, VT | 11.6 |
| 09:16 am EDT - 3/14/2023 | 10 SW GRANVILLE, NY | 11.5 |
| 08:20 pm EDT - 3/14/2023 | TORRINGTON, CT | 11.5 |
| 05:09 pm EDT - 3/14/2023 | 2 NNW BAKERSVILLE, CT | 11.5 |
| 06:33 pm EDT - 3/14/2023 | 1 NNE POMFRET, VT | 11.5 |
| 07:29 am EDT - 3/14/2023 | 2 NW STERLING, MA | 11.5 |
| 12:51 pm EDT - 3/14/2023 | 1 SSW SANDOWN, NH | 11.5 |
| 08:15 am EDT - 3/14/2023 | 5 SW GRANVILLE, CT | 11.3 |
| 09:16 pm EDT - 3/14/2023 | 1 SE WINSTED, CT | 11.3 |
| 08:49 pm EDT - 3/14/2023 | 4 E LIMERICK, ME | 11.3 |
| 01:40 pm EDT - 3/14/2023 | 1 ESE BROOKLINE, NH | 11.3 |
| 06:59 am EDT - 3/14/2023 | SHREWSBURY, VT | 11 |
| 05:35 pm EDT - 3/14/2023 | CANAAN, CT | 11 |
| 04:30 pm EDT - 3/14/2023 | CANAAN, CT | 11 |
| 07:41 am EDT - 3/14/2023 | POWNAL, VT | 11 |
| 05:00 pm EDT - 3/14/2023 | PANTON, VT | 11 |
| 09:38 pm EDT - 3/14/2023 | 3 N PORTER, ME | 11 |
| 08:52 pm EDT - 3/14/2023 | 2 E TOPSHAM, VT | 11 |
| 06:41 am EDT - 3/14/2023 | 2 WNW WINDSOR, NH | 11 |
| 11:10 pm EDT - 3/14/2023 | 1 N DOVER, NH | 11 |
| 08:54 pm EDT - 3/14/2023 | 2 NE STRATHAM, NH | 10.9 |
| 01:42 pm EDT - 3/14/2023 | 3 ESE TYNGSBORO, MA | 10.6 |
| 09:10 am EDT - 3/14/2023 | LENOX, MA | 10.5 |
| 10:00 am EDT - 3/14/2023 | DANBY, VT | 10.5 |
| 07:30 am EDT - 3/14/2023 | 3 ENE MANCHESTER, VT | 10.5 |
| 09:15 pm EDT - 3/14/2023 | WILLIAMSTOWN, MA | 10.5 |
| 07:33 pm EDT - 3/14/2023 | CHELSEA, VT | 10.5 |
| 11:00 am EDT - 3/14/2023 | 4 N TEMPLETON, MA | 10.5 |
| 11:05 am EDT - 3/14/2023 | 2 S NEW BOSTON, NH | 10.3 |
| 04:00 pm EDT - 3/14/2023 | 2 ESE PITTSFIELD, MA | 10.2 |
| 08:33 pm EDT - 3/14/2023 | 3 SSW WALLINGFORD, VT | 10.1 |
| 09:32 am EDT - 3/14/2023 | 4 W SIMSBURY, CT | 10 |
| 03:38 pm EDT - 3/14/2023 | WAITSFIELD, VT | 10 |
| 12:39 pm EDT - 3/14/2023 | RANDOLPH CENTER, VT | 10 |
| 12:50 pm EDT - 3/14/2023 | GROTON, VT | 10 |
| 02:24 pm EDT - 3/14/2023 | STODDARD, NH | 10 |
| 10:24 am EDT - 3/14/2023 | 4 SE ALSTEAD, NH | 10 |
| 01:21 pm EDT - 3/14/2023 | WARNER, NH | 10 |
| 07:28 am EDT - 3/14/2023 | 2 N FRANCESTOWN, NH | 10 |
| 10:30 am EDT - 3/14/2023 | SPRINGFIELD, VT | 10 |
| 12:00 am EDT - 3/15/2023 | CONCORD MUNICIPAL AIRPO, NH | 10 |
| 06:19 pm EDT - 3/14/2023 | 3 W HAMPSTEAD, NH | 10 |
| 09:05 am EDT - 3/14/2023 | LUNENBURG, MA | 10 |
| 10:15 am EDT - 3/14/2023 | 2 SSE SULLIVAN, NH | 10 |
| 10:30 am EDT - 3/14/2023 | EASTHAMPTON, MA | 10 |
| 01:00 am EDT - 3/15/2023 | MANCHESTER AIRPORT, NH | 9.9 |
| 06:30 pm EDT - 3/14/2023 | 1 SW SANDOWN, NH | 9.8 |
| 02:33 pm EDT - 3/14/2023 | WILLIAMSTOWN, VT | 9.5 |
| 04:55 pm EDT - 3/14/2023 | 4 NNE NORTHWOOD, NH | 9.5 |
| 05:05 pm EDT - 3/14/2023 | NASHUA, NH | 9.5 |
| 01:05 pm EDT - 3/14/2023 | 1 W LEICESTER, MA | 9.5 |
| 01:38 pm EDT - 3/14/2023 | 1 NNW HOLLIS, NH | 9.3 |
| 09:59 pm EDT - 3/14/2023 | 5 NW HOLLIS, ME | 9.1 |
| 06:01 pm EDT - 3/14/2023 | GREAT BARRINGTON, MA | 9 |
| 07:39 pm EDT - 3/14/2023 | BRANDON, VT | 9 |
| 01:47 pm EDT - 3/14/2023 | 1 ESE MADISON, NH | 9 |
| 10:04 am EDT - 3/14/2023 | 3 N WESTON, VT | 9 |
| 09:00 am EDT - 3/14/2023 | CAVENDISH, VT | 9 |
| 06:00 am EDT - 3/14/2023 | 1 NNE LANDGROVE, VT | 9 |
| 06:36 pm EDT - 3/14/2023 | 1 ESE BOYLSTON, MA | 8.8 |
| 11:00 am EDT - 3/14/2023 | 1 NNE HARDWICK, MA | 8.8 |
| 12:22 pm EDT - 3/14/2023 | 2 SSW HOLLIS, NH | 8.7 |
| 08:00 am EDT - 3/14/2023 | NORFOLK, CT | 8.6 |
| 07:00 am EDT - 3/14/2023 | 4 ESE CANAAN, CT | 8.5 |
| 05:40 pm EDT - 3/14/2023 | HOOSICK FALLS, NY | 8.5 |
| 06:44 pm EDT - 3/14/2023 | 5 NW HOLLIS, ME | 8.5 |
| 12:04 pm EDT - 3/14/2023 | WEST NEWBURY, VT | 8.5 |
| 12:20 pm EDT - 3/14/2023 | 3 SSW PUTNEY, VT | 8.5 |
| 06:22 pm EDT - 3/14/2023 | 3 E CANTERBURY, NH | 8.5 |
| 06:33 pm EDT - 3/14/2023 | 3 ENE CANTERBURY, NH | 8.5 |
| 05:53 pm EDT - 3/14/2023 | DURHAM, NH | 8.5 |
| 02:44 pm EDT - 3/14/2023 | BEDFORD, NH | 8.5 |
| 09:14 pm EDT - 3/14/2023 | STANDISH, ME | 8.2 |
| 07:33 pm EDT - 3/14/2023 | 2 SSE PITTSFORD, VT | 8 |
| 12:40 pm EDT - 3/14/2023 | NEW MARLBOROUGH, MA | 8 |
| 08:26 am EDT - 3/14/2023 | PETERSBURG, NY | 8 |
| 03:27 pm EDT - 3/14/2023 | CHARLOTTE, VT | 8 |
| 03:13 pm EDT - 3/14/2023 | WESTPORT, NY | 8 |
| 09:14 am EDT - 3/14/2023 | EAST RANDOLPH, VT | 8 |
| 07:40 pm EDT - 3/14/2023 | BERWICK, ME | 8 |
| 04:21 pm EDT - 3/14/2023 | 2 S SOMERSWORTH, NH | 8 |
| 09:00 am EDT - 3/14/2023 | BARNET, VT | 8 |
| 04:52 pm EDT - 3/14/2023 | 1 N MADISON, NH | 8 |
| 10:11 am EDT - 3/14/2023 | 1 SE HILLSBOROUGH, NH | 8 |
| 08:42 am EDT - 3/14/2023 | 1 WNW WILTON, NH | 8 |
| 09:21 am EDT - 3/14/2023 | 2 ENE BENNINGTON, NH | 8 |
| 07:00 am EDT - 3/14/2023 | 6 NW WESTMINSTER, VT | 8 |
| 03:55 pm EDT - 3/14/2023 | 2 WNW PITTSFIELD, NH | 8 |
| 10:50 am EDT - 3/14/2023 | 3 ESE BARNSTEAD, NH | 8 |
| 11:38 am EDT - 3/14/2023 | 1 WSW BEDFORD, NH | 8 |
| 04:09 pm EDT - 3/14/2023 | 3 WSW HAVERHILL, MA | 8 |
| 02:40 pm EDT - 3/14/2023 | 3 W HAVERHILL, MA | 8 |
| 11:45 am EDT - 3/14/2023 | 2 SE PEPPERELL, MA | 8 |
| 08:00 pm EDT - 3/14/2023 | AUBURN, MA | 8 |
| 12:29 pm EDT - 3/14/2023 | 2 N SOUTHWICK, MA | 8 |
| 02:45 pm EDT - 3/14/2023 | GRANBY, CT | 8 |
| 08:08 pm EDT - 3/14/2023 | 1 NNW CHARLTON, MA | 7.9 |
| 09:00 pm EDT - 3/14/2023 | 4 NNW NEW FAIRFIELD, CT | 7.5 |
| 07:35 am EDT - 3/14/2023 | FAYSTON, VT | 7.5 |
| 07:15 pm EDT - 3/14/2023 | 1 NNE GRAY, ME | 7.5 |
| 10:12 am EDT - 3/14/2023 | 2 NW LEE, NH | 7.5 |
| 01:55 pm EDT - 3/14/2023 | 3 NNE NORTHWOOD, NH | 7.5 |
| 01:40 pm EDT - 3/14/2023 | 1 WSW ROCHESTER, NH | 7.5 |
| 07:00 am EDT - 3/14/2023 | WINSTED, CT | 7.2 |
| 07:00 am EDT - 3/14/2023 | 1 NNW CHESHIRE, MA | 7.2 |
| 08:45 am EDT - 3/14/2023 | 1 NE PUTNEY, VT | 7.2 |
| 09:37 am EDT - 3/14/2023 | 1 W PEPPERELL, MA | 7.2 |
| 01:49 pm EDT - 3/14/2023 | 2 SW CHICOPEE, MA | 7.1 |
| 12:15 pm EDT - 3/14/2023 | TICONDEROGA, NY | 7 |
| 03:55 pm EDT - 3/14/2023 | NORTH ADAMS, MA | 7 |
| 04:15 pm EDT - 3/14/2023 | 1 NNW ASHLEY FALLS, MA | 7 |
| 05:50 pm EDT - 3/14/2023 | STOCKBRIDGE, MA | 7 |
| 06:30 am EDT - 3/14/2023 | LENOX, MA | 7 |
| 01:00 am EDT - 3/15/2023 | 3 W POWNAL, ME | 7 |
| 05:30 pm EDT - 3/14/2023 | LEBANON, NH | 7 |
| 08:56 pm EDT - 3/14/2023 | NORWAY, ME | 7 |
| 12:36 pm EDT - 3/14/2023 | 1 E BOYLSTON, MA | 7 |
| 11:39 am EDT - 3/14/2023 | 4 WSW LANGDON, NH | 7 |
| 02:39 pm EDT - 3/14/2023 | 2 E HAMPSTEAD, NH | 7 |
| 05:10 pm EDT - 3/14/2023 | 1 W NASHUA, NH | 7 |
| 12:00 pm EDT - 3/14/2023 | WARREN, MA | 7 |
| 12:30 pm EDT - 3/14/2023 | 1 SE WORCESTER, MA | 7 |
| 05:55 pm EDT - 3/14/2023 | 2 W MEREDITH, NH | 6.9 |
| 09:30 am EDT - 3/14/2023 | PLAINFIELD, VT | 6.8 |
| 09:00 pm EDT - 3/14/2023 | 2 NE GRAY, ME | 6.8 |
| 02:43 pm EDT - 3/14/2023 | 1 ENE EXETER, NH | 6.8 |
| 02:31 pm EDT - 3/14/2023 | 2 SSW EAST BALDWIN, ME | 6.5 |
| 09:40 am EDT - 3/14/2023 | 1 SE JACKSON, NH | 6.5 |
| 03:44 pm EDT - 3/14/2023 | 2 SE SALEM, NH | 6.5 |
| 07:20 pm EDT - 3/14/2023 | 2 N CHELMSFORD, MA | 6.5 |
| 07:00 am EDT - 3/14/2023 | 1 S BRATTLEBORO, VT | 6.4 |
| 07:19 pm EDT - 3/14/2023 | QUECHEE, VT | 6.3 |
| 11:30 pm EDT - 3/14/2023 | 2 E LEWISTON, ME | 6.2 |
| 07:11 am EDT - 3/14/2023 | 2 N BROOKLINE, NH | 6.2 |
| 08:30 am EDT - 3/14/2023 | 2 NE WINSTED, CT | 6 |
| 12:41 pm EDT - 3/14/2023 | BETHLEHEM VILLAGE, CT | 6 |
| 09:00 am EDT - 3/14/2023 | MONTPELIER, VT | 6 |
| 12:11 pm EDT - 3/14/2023 | PORT HENRY, NY | 6 |
| 08:13 am EDT - 3/14/2023 | HEBRON, NY | 6 |
| 11:00 am EDT - 3/14/2023 | WESTFORD, MA | 6 |
| 03:30 pm EDT - 3/14/2023 | HUDSON, MA | 6 |
| 01:00 pm EDT - 3/14/2023 | BENNINGTON, VT | 6 |
| 09:13 pm EDT - 3/14/2023 | 1 WNW EXETER, NH | 6 |
| 02:56 pm EDT - 3/14/2023 | 1 N METHUEN, MA | 6 |
| 02:20 pm EDT - 3/14/2023 | 2 SSW NASHUA, NH | 6 |
| 11:23 am EDT - 3/14/2023 | HUDSON, NH | 6 |
| 11:31 am EDT - 3/14/2023 | 1 N PELHAM, NH | 6 |
| 11:49 am EDT - 3/14/2023 | 2 SW KEENE, NH | 6 |
| 09:21 pm EDT - 3/14/2023 | 2 W LUDLOW, MA | 6 |
| 08:45 am EDT - 3/14/2023 | SOUTHWICK, MA | 6 |
| 06:42 pm EDT - 3/14/2023 | 2 SW TEWKSBURY, MA | 5.9 |
| 11:10 am EDT - 3/14/2023 | 2 N MERRIMACK, NH | 5.6 |
| 08:00 pm EDT - 3/14/2023 | 4 WNW POWNAL, ME | 5.5 |
| 09:13 pm EDT - 3/14/2023 | 1 N CUMBERLAND, ME | 5.5 |
| 01:34 pm EDT - 3/14/2023 | DURHAM, NH | 5.5 |
| 12:54 pm EDT - 3/14/2023 | 3 SE DOVER, NH | 5.5 |
| 06:18 am EDT - 3/14/2023 | WALPOLE, NH | 5.5 |
| 05:57 pm EDT - 3/14/2023 | 2 N NEW BOSTON, NH | 5.5 |
| 12:52 pm EDT - 3/14/2023 | 1 WSW NASHUA, NH | 5.5 |
| 07:25 pm EDT - 3/14/2023 | STAFFORDVILLE, CT | 5.5 |
| 12:13 pm EDT - 3/14/2023 | 4 NW SUFFIELD, CT | 5.5 |
| 07:00 am EDT - 3/14/2023 | 1 NE SOUTHAMPTON, MA | 5.3 |
| 04:00 pm EDT - 3/14/2023 | 2 E CONWAY, NH | 5.2 |
| 11:42 am EDT - 3/14/2023 | 2 NNW MANCHESTER, NH | 5.2 |
| 10:37 am EDT - 3/14/2023 | BARRE, VT | 5 |
| 06:29 pm EDT - 3/14/2023 | 2 WSW MENDON, VT | 5 |
| 01:38 pm EDT - 3/14/2023 | 1 NNE OSSIPEE, NH | 5 |
| 12:31 pm EDT - 3/14/2023 | 4 NE SHAPLEIGH, ME | 5 |
| 01:27 pm EDT - 3/14/2023 | 1 N DURHAM, NH | 5 |
| 12:46 pm EDT - 3/14/2023 | 2 WSW MEREDITH, NH | 5 |
| 08:06 am EDT - 3/14/2023 | 1 WNW CENTER SANDWICH, NH | 5 |
| 10:25 am EDT - 3/14/2023 | 1 SW TYNGSBORO, MA | 5 |
| 06:42 pm EDT - 3/14/2023 | WHITEHALL, NY | 5 |
| 09:09 pm EDT - 3/14/2023 | NEWBURYPORT, MA | 5 |
| 12:50 pm EDT - 3/14/2023 | 1 NNW BILLERICA, MA | 5 |
| 01:43 pm EDT - 3/14/2023 | 3 SE EAST BROOKFIELD, MA | 5 |
| 07:00 am EDT - 3/14/2023 | 3 SW STEPHENTOWN, NY | 5 |
| 12:00 pm EDT - 3/14/2023 | 1 S WESTFIELD, MA | 5 |
| 09:00 am EDT - 3/14/2023 | 2 SW WINSTED, CT | 5 |
| 08:00 pm EDT - 3/14/2023 | 1 NNE OLD ORCHARD BEACH, ME | 4.9 |
| 01:30 pm EDT - 3/14/2023 | CARLISLE, MA | 4.9 |
| 09:20 am EDT - 3/14/2023 | 1 SSE CAMPTON, NH | 4.8 |
| 06:00 pm EDT - 3/14/2023 | BEDFORD, MA | 4.8 |
| 08:13 pm EDT - 3/14/2023 | 1 N BURLINGTON, MA | 4.8 |
| 08:23 pm EDT - 3/14/2023 | 2 W LISBON FALLS, ME | 4.7 |
| 07:39 pm EDT - 3/14/2023 | GORHAM, ME | 4.6 |
| 08:00 am EDT - 3/14/2023 | HARDWICK, MA | 4.6 |
| 08:00 pm EDT - 3/14/2023 | MIDDLEBURY, CT | 4.5 |
| 09:42 pm EDT - 3/14/2023 | 2 NW FALMOUTH, ME | 4.5 |
| 04:09 pm EDT - 3/14/2023 | 1 W KITTERY POINT, | 4.5 |
| 09:24 am EDT - 3/14/2023 | 2 ENE PLYMOUTH, NH | 4.5 |
| 12:37 pm EDT - 3/14/2023 | 1 SE HAVERHILL, MA | 4.5 |
| 08:00 pm EDT - 3/14/2023 | GRAFTON, MA | 4.5 |
| 07:00 am EDT - 3/14/2023 | 3 N GREAT BARRINGTON, MA | 4.5 |
| 07:00 am EDT - 3/14/2023 | 2 NW AGAWAM, MA | 4.5 |
| 12:00 pm EDT - 3/14/2023 | 3 WSW SPRINGFIELD, MA | 4.5 |
| 12:40 pm EDT - 3/14/2023 | 2 E ACTON, MA | 4.4 |
| 08:00 pm EDT - 3/14/2023 | BRADLEY AP, CT | 4.4 |
| 07:50 am EDT - 3/14/2023 | WINSTED, CT | 4.3 |
| 08:01 pm EDT - 3/14/2023 | 2 W FALMOUTH, ME | 4.3 |
| 10:58 am EDT - 3/14/2023 | 2 E LINCOLN, NH | 4.3 |
| 12:50 pm EDT - 3/14/2023 | 1 NE LOWELL, MA | 4.3 |
| 07:23 pm EDT - 3/14/2023 | 2 WSW WESTBOROUGH, MA | 4.3 |
| 07:24 pm EDT - 3/14/2023 | 2 SE NEW GLOUCESTER, ME | 4.2 |
| 03:22 pm EDT - 3/14/2023 | 2 WNW WILMINGTON, MA | 4.2 |
| 07:00 am EDT - 3/14/2023 | BAKERSVILLE, CT | 4.1 |
| 07:00 am EDT - 3/14/2023 | 3 SW NEW HARTFORD CENTE, CT | 4.1 |
| 07:00 am EDT - 3/14/2023 | 2 WNW WARREN, CT | 4 |
| 07:30 am EDT - 3/14/2023 | LAKEVILLE, CT | 4 |
| 04:58 pm EDT - 3/14/2023 | 1 N HOPE, ME | 4 |
| 01:18 pm EDT - 3/14/2023 | 5 NW HOLLIS, ME | 4 |
| 09:30 pm EDT - 3/14/2023 | 2 S LEXINGTON, MA | 4 |
| 03:00 pm EDT - 3/14/2023 | GRANVILLE, NY | 4 |
| 12:19 pm EDT - 3/14/2023 | 1 ENE MOULTONBOROUGH, NH | 4 |
| 09:19 am EDT - 3/14/2023 | HAMPSTEAD, NH | 4 |
| 01:23 pm EDT - 3/14/2023 | 2 ENE STRATHAM, NH | 4 |
| 04:30 pm EDT - 3/14/2023 | 1 SSE HAVERHILL, MA | 4 |
| 07:00 pm EDT - 3/14/2023 | SPENCER, MA | 4 |
| 05:35 pm EDT - 3/14/2023 | 3 W POWNAL, ME | 3.9 |
| 07:00 am EDT - 3/14/2023 | 1 NNE ROCKINGHAM, VT | 3.9 |
| 07:50 pm EDT - 3/14/2023 | PROSPECT, CT | 3.8 |
| 08:56 am EDT - 3/14/2023 | 1 WNW ASHLAND, NH | 3.8 |
| 10:10 am EDT - 3/14/2023 | STAFFORD SPRINGS, CT | 3.8 |
| 08:00 pm EDT - 3/14/2023 | 2 SW NEWTOWN, CT | 3.7 |
| 05:55 pm EDT - 3/14/2023 | FARMINGDALE, ME | 3.7 |
| 05:24 pm EDT - 3/14/2023 | STAFFORDVILLE, CT | 3.7 |
| 06:05 pm EDT - 3/14/2023 | 2 SW WESTBOROUGH, MA | 3.7 |
| 08:32 am EDT - 3/14/2023 | 2 SE DUNSTABLE, MA | 3.5 |
| 02:30 pm EDT - 3/14/2023 | SOUTHBURY, CT | 3.3 |
| 05:19 pm EDT - 3/14/2023 | 3 S SHREWSBURY, MA | 3.1 |
| 05:09 pm EDT - 3/14/2023 | ROCKLAND, ME | 3 |
| 07:00 pm EDT - 3/14/2023 | 3 WNW STURBRIDGE, MA | 3 |
| 11:41 am EDT - 3/14/2023 | WILBRAHAM, MA | 3 |
| 06:00 am EDT - 3/14/2023 | 1 W LUDLOW, MA | 3 |
| 07:00 am EDT - 3/14/2023 | BELCHERTOWN, MA | 3 |
| 06:00 am EDT - 3/14/2023 | LEVERETT, MA | 3 |
| 08:22 pm EDT - 3/14/2023 | 2 E VERNON, CT | 3 |
| 06:54 am EDT - 3/14/2023 | 3 S CROWN POINT, NY | 2.8 |
| 12:20 pm EDT - 3/14/2023 | 2 NE WESTBOROUGH, MA | 2.8 |
| 07:00 am EDT - 3/14/2023 | 2 NW SHEFFIELD, MA | 2.8 |
| 07:05 am EDT - 3/14/2023 | 2 N ENFIELD, CT | 2.8 |
| 05:30 pm EDT - 3/14/2023 | REDDING, CT | 2.7 |
| 02:00 pm EDT - 3/14/2023 | 1 N CONCORD, MA | 2.7 |
| 09:00 am EDT - 3/14/2023 | 5 ESE LITCHFIELD, CT | 2.5 |
| 05:53 pm EDT - 3/14/2023 | TOPSHAM, ME | 2.5 |
| 02:30 pm EDT - 3/14/2023 | RUTLAND, VT | 2.5 |
| 04:16 pm EDT - 3/14/2023 | 2 SSE NORTH WINDHAM, ME | 2.5 |
| 07:20 am EDT - 3/14/2023 | W SOUTH SHAFTSBURY, VT | 2.5 |
| 07:45 am EDT - 3/14/2023 | 3 E TILTON, NH | 2.5 |
| 07:32 am EDT - 3/14/2023 | 1 NW AVON, CT | 2.4 |
| 11:56 am EDT - 3/14/2023 | 1 SW LEXINGTON, MA | 2.4 |
| 05:00 pm EDT - 3/14/2023 | 1 SSW STURBRIDGE, MA | 2.4 |
| 02:33 pm EDT - 3/14/2023 | 1 WNW OLD ORCHARD BEACH, ME | 2.3 |
| 08:45 pm EDT - 3/14/2023 | 1 SSW WALPOLE, MA | 2.2 |
| 12:34 pm EDT - 3/14/2023 | 1 E FRAMINGHAM, MA | 2.2 |
| 05:00 pm EDT - 3/14/2023 | LAKE GROVE, NY | 2 |
| 06:00 pm EDT - 3/14/2023 | STONY BROOK, NY | 2 |
| 01:00 pm EDT - 3/14/2023 | 1 E DANBURY, CT | 2 |
| 06:00 am EDT - 3/14/2023 | NNE STOCKBRIDGE, MA | 2 |
| 07:15 pm EDT - 3/14/2023 | SEAWALL, ME | 2 |
| 06:28 am EDT - 3/14/2023 | WEST ARLINGTON, VT | 2 |
| 08:58 pm EDT - 3/14/2023 | WALPOLE, MA | 2 |
| 11:00 am EDT - 3/14/2023 | 2 SSW CHELMSFORD, MA | 2 |
| 04:46 pm EDT - 3/14/2023 | AUBURN, MA | 2 |
| 04:22 pm EDT - 3/14/2023 | 1 SW KENNEBUNKPORT, ME | 1.9 |
| 09:00 am EDT - 3/14/2023 | 1 SSW NEW MILFORD, CT | 1.8 |
| 12:21 pm EDT - 3/14/2023 | 1 NNW LEXINGTON, MA | 1.8 |
| 01:17 pm EDT - 3/14/2023 | PORTLAND JETPORT, ME | 1.7 |
| 05:15 pm EDT - 3/14/2023 | BAYPORT, NY | 1.5 |
| 08:20 am EDT - 3/14/2023 | SOMERSWORTH, ME | 1.5 |
| 06:00 am EDT - 3/14/2023 | 2 SSE SALEM, NY | 1.5 |
| 08:01 pm EDT - 3/14/2023 | 1 ESE RANDOLPH, MA | 1.5 |
| 11:00 am EDT - 3/14/2023 | STOW, MA | 1.5 |
| 05:00 pm EDT - 3/14/2023 | COMMACK, NY | 1.3 |
| 12:21 pm EDT - 3/14/2023 | 2 SSE NORTH WINDHAM, ME | 1.3 |
| 08:00 pm EDT - 3/14/2023 | ISLIP AIRPORT, NY | 1.2 |
| 08:45 pm EDT - 3/14/2023 | WHITMAN, MA | 1.2 |
| 07:00 am EDT - 3/14/2023 | 3 WNW NEW MILFORD, CT | 1 |
| 08:47 am EDT - 3/14/2023 | 3 N WATERTOWN, CT | 1 |
| 07:57 am EDT - 3/14/2023 | 5 NE HANOVER, NH | 1 |
| 09:36 pm EDT - 3/14/2023 | 1 WNW MEDFORD, MA | 1 |
| 12:03 pm EDT - 3/14/2023 | 2 SSW READING, MA | 1 |
| 07:00 pm EDT - 3/14/2023 | 1 E FOSTER, RI | 1 |