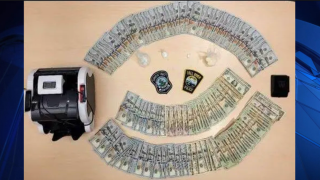 Three people were arrested by Somerset Police after a suspected drug dealing investigation.
The suspects were identified as 29-year-old Aaron McDermott, 25-year-old Matthew McDermott and 25-year-old Chelsea Soares.
Both men were charged with various drug trafficking crimes and conspiracy to violate drug law.
Soares was arrested and charged with being a fugitive from justice.
According to the investigators, Aaron and Matthew were using a motel room on Riverside Avenue in Somerset to sell drugs.
Authorities seized 54 grams of suspected fentanyl, 32 grams of suspected crack cocaine and $10,409 in cash.
All three people are expected to be arraigned Friday in Fall River District Court.