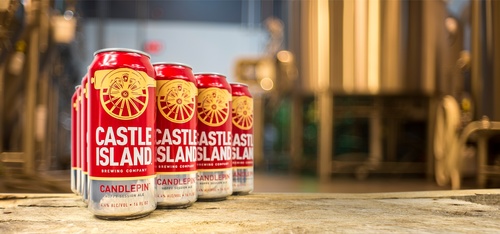 Editor's note: Adam Romanow is the founder of Castle Island Brewing Company.
So, here we are on the precipice of opening our brand new taproom to the public. It's hard to believe we're finally there – no matter how hard we pinch ourselves – but we're just hours away from inviting throngs of thirsty beer lovers across our threshold to drink beer inside the very brewery where it's made. We're excited, anxious, and optimistic, and we're ready to party.
It's tough being one of the only guys on the block without the shiny new toy.
Local
In-depth news coverage of the Greater Boston Area.
It's been in the works for a while, but didn't really start to take shape until recently. Until two months ago, the "taproom" was an empty shell made of concrete and corrugated steel; a wealth of possibility with little activation of its true potential. But then came the demo crews. It's amazing how much you can learn about a building by cutting it open, especially one that you've inhabited for the last eighteen months. Walls were torn apart. Ceilings came down. Floors were turned into trenches. Our home for the last year and a half was almost unrecognizable.
But almost as fast as it was taken apart, the construction crews put it right back together, bigger and better than ever. Bar plumbing and electrical were put in, bathrooms were renewed, and our retail store became more permanent – a massive upgrade from the transient shop counter we wheeled in and out of place on weekends. It wasn't quite done, but it was already starting to feel more like the taproom we had built in our dreams. And now that we're a day away from showing you what we've done with the place, we can definitely say that's exactly what it is.
When we launched Castle Island at the tail end of 2015, the plan was always to focus on our wholesale business first, and bring the beer to the people. We knew we wanted to put in a taproom where our fans could come experience the liquid in its "natural environment," but we wanted to build a strong foundation for the brand before we added another layer of complexity. Year one met our definitions of success, so we determined that 2017 was going to be the year we finally built our taproom. We put the plans together, started gathering the team, and raised the cash to begin construction. We didn't have a target date to get it open, but we were generally striving for "ASAP." The brand deserved a taproom, and we wanted to deliver.
It's tough being one of the only guys on the block without the shiny new toy. All around us, taprooms dominate the local beer scene, and we have had hundreds of people asking us daily when we were going to open our own. You can imagine how awesome it is to finally be able to say we're here; we've made it; we're opening. We've been dreaming of an authentic space where beer drinkers can come experience Castle Island in its purest form, and that's what our new taproom offers. But don't take my word for it; our doors open tomorrow, so come check it out for yourself.
If you go: Monday and Tuesday: 4 - 8 p.m.; Wednesday to Saturday: 11 a.m. - 10 p.m.; Sunday: 11 a.m. - 6 p.m. | Images provided.
More BostInno Stories:

Copyright Boston - BostInno