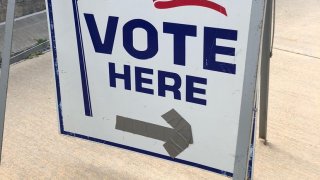 Special primaries are being held in Boston on Tuesday for two open state representative seats.
Polls will be open until 8 p.m. for voters in the 9th and 10th Suffolk State Representative Districts.
The special primaries are being held to nominate candidates to fill the vacancies created by the resignations of state Reps. Jon Santiago and Edward Coppinger. Santiago recently joined Gov. Maura Healey's administration as secretary of the Executive Office of Veterans' Services, and Coppinger left to become the head of government affairs at the Massachusetts Biotechnology Council.
Only 39 of Boston's 252 precincts will participate in Tuesday's election.
Special state elections will be held on Tuesday, May 30, but the open seats will likely be decided in the special primaries because no Republicans are on the ballot.
Boston Democrats John Francis Moran and Amparo "Chary" Ortiz are facing off in the 9th Suffolk District.
Moran is an associate director for business operations at Biogen and an affordable housing advocate from the South End. Ortiz, who also lives in the South End, works at Boston University's School of Public Health and has been a part of community groups including the Blackstone Neighborhood Association.
The 10th Suffolk District race features three Democrats: Bill MacGregor, Robert Patrick Orthman and Celia Segel, all of Boston.
MacGregor, a West Roxbury resident, works as a loan officer for CrossCountry Mortgage after spending a decade as chief of staff to Boston City Councilor Matt O'Malley. Roslindale's Orthman is deputy general counsel at the state Department of Early Education and Care. Segel, of Jamaica Plain, works as the Health Policy Commission's associate director for pharmaceutical pricing and policy.
The 9th Suffolk District covers much of the South End, reaching from Interstate 93 along its eastern edge to Roxbury in the west. The 10th Suffolk District stretches from Jamaica Plain to West Roxbury, including parts of Brookline.
Voters of Brookline's Precinct 16 will also be presented with multiple ballots when they check in at the polls, as Brookline's annual town election is also being held Tuesday. Voters may choose to vote in either or both elections.
The Secretary of State's Office said any voters casting their ballots in person should be aware that some polling locations have recently changed. Voters can confirm their polling place and district at www.WhereDoIVoteMA.com.
For voters casting mail-in ballots, all ballots must be received by 8 p.m. on Tuesday in order to be counted. Voters who have not already mailed their ballots are encouraged to use ballot drop boxes to ensure timely delivery.