Massachusetts is set to launch in-person sports betting in the state on Tuesday, less than two weeks before the Super Bowl and well ahead of March Madness.
In-person sports betting starts at 10 a.m. Tuesday at casinos and mobile sports betting scheduled to commence in early March, though no exact date has been given yet. The Massachusetts Gaming Commission was scheduled to meet Monday to approve certificates of operation for the state's three casinos to begin accepting bets.
Former Gov. Charlie Baker signed a bill last August legalizing betting on professional and collegiate sports, joining more than 30 other states, including several neighbors. Baker said that he supported it because state residents were already traveling to Rhode Island, New Hampshire, New York and Connecticut to place legal wagers. Massachusetts expects to rake in as much as $50 million in added revenue once everything is up and running.
The U.S. Supreme Court in 2018 ruled that banning sports betting was unconstitutional.
Anyone who wants to place a bet starting Tuesday will have to go in-person to Encore Boston Harbor in Everett, Plainridge Park Casino or MGM Springfield.
Here's what the state's three casinos have planned Tuesday, and which former Boston athletes they have lined up to attend:
Encore Boston Harbor
Legal sports betting begins Tuesday at Encore Boston Harbor in Everett, the state's largest and newest casino, and also the first to secure a wagering license. The first bets will be placed in the WynnBET Kiosk Room at 10 a.m. by 32 "lucky guests" chosen for the honor. Immediately after the inaugural event, championship-winning athletes and state representatives will place the first bets at the WynnBET Sportsbook windows. "Celebrities will include Shawn Thornton, Ty Law, Matt Light, Cedric Maxwell, Eddie House, Johnny Damon, Angela Ruggiero and Massachusetts Speaker Ronald Mariano and Representatives Jerald Parisella and Aaron [Michlewitz]," the casino said. The whole thing will be emceed by Sean McDonough. The Everett casino will have 10 live betting windows and more than 115 betting kiosks, most of them available 24/7. For bettors in a rush, the casino has also installed 20 kiosks in a retrofitted part of its parking garage. At 6 p.m., Julian Edelman will arrive to "place his own significant bet at the WynnBET Sportsbook," the casino said.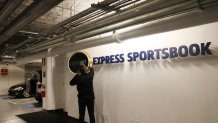 Plainridge Park Casino
Plainridge Park Casino will begin accepting in-person sports wagering for the first time at 10 a.m. Tuesday, and they will hold a ribbon-cutting ceremony at 1 p.m. with former New England Patriots linebacker Rob Ninkovich. According to PlayMA.com, Plainridge expected to have as many as 18 kiosks and five betting windows available for sports betting at a temporary sportbook. Barstool Sportsbook & Restaurant is expected to open an expanded gaming space at a later date in the existing Flutie's Sports Pub, and the casino plans to eventually expand to 20 kiosks and six betting windows.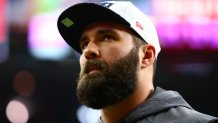 MGM Springfield
Boston Bruins legend Ray Bourque, Sen. Adam Gomez, Rep. Carlos Gonzalez and Springfield Mayor Domenic Sarno will headline the launch of legal in-person sports betting at Massachusetts' first resort-style casino, MGM Springfield. In its latest sports betting license application, MGM Springfield said it plans to create seven new full-time positions and six new part-time positions once it secured a sports betting license. "We are extraordinarily excited about, in the not-too-distant future, transitioning an extraordinary sports lounge into a sportsbook," MGM Springfield President Chris Kelley said last month, referring to what the casino's wagering application said is a 4,586-square-foot "first-class Sports Wagering lounge with stadium seating, a 45ft viewing wall, as well as an enclosed wagering counter and space for wagering kiosks" near the entrance/exit at Main Street. Tuesday's program begins at 9:15 a.m. with betting beginning at 10.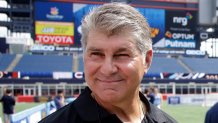 The Associated Press contributed to this report.