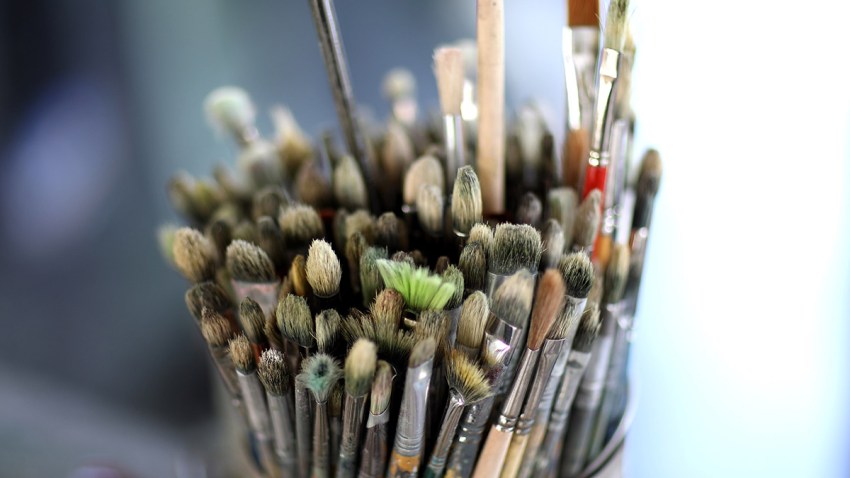 Explore art this weekend! A spring open studios weekend at Boston's first live/work artists cooperative: explore studios, meet artists, and see new works, all under one roof.
Artists of the 249 A Street Cooperative building will open their doors for a spring Open Studios event Saturday, May 12th and Sunday, May 13th – 12pm-5pm both days. Many studios in the South Boston artists' cooperative will be open, and invited guest artists will be joining in to exhibit. The event offers an opportunity to view and purchase artwork from a variety of artists, including painters, photographers, printmakers, book artists, potters, sculptors, mixed-media artists, and jewelers, all conveniently located in one building.
The 249 A Street Cooperative is Massachusetts's first limited-equity live/work cooperative for visual artists, and one of the few that currently exist in Boston. Founded in 1984, the building is home to more than 45 artists and their families, and has served as a model for artists' housing nationwide. This unique artist-owned building has successfully survived the massive development of the neighborhood and nearby Seaport district. It continues to provide secure and affordable live/work space in the Fort Point neighborhood of South Boston.
Local
In-depth news coverage of the Greater Boston Area.
This event is free to the public.
FREE VALIDATED PARKING across the street in the Channelside Parking Lot, thanks to P&G/Gillette and Channelside Parking.
Participating artists include:
Susan Anderson: paintings and drawings
Domingo Barreres: painting
Domingo-Martin Barreres: mixed media
Martin Berinstein: photographic images
Jennifer Chin: Lush Metals, jewelry
Laura Davidson: artists books, prints, drawings
Jane Deutsch: encaustic paintings, sculpture
James Guggina: ceramics
Elisa H. Hamilton: mixed media drawings
Linda Huey: ceramics
Ian Kennelly: Drawing, Painting, LEGO, Mixed media
Lisa Knox: ocean inspired paintings, drawings and shrines
Amy MacDonald: painting, animation, and portraits
Karen McFeaters: cityscapes, landscapes, dog portraits
Kirk McNeil: photography
Dan Osterman: drawings
Gabrielle Schaffner: ceramics
Lenore Tenenblatt: prints, cards, sculpture
George Vasquez: photography
Art events at 249 A Street are supported in part by a grant from the South Boston Community Development Foundation.
Details:
dates: May 12 + 13, 2018
hours: noon-5pm
location: 249 A Street, Boston MA 02210
For more information:
www.249astreetcoop.com
The post Spring Open Studios Weekend in Fort Point appeared first on Caught In Southie.