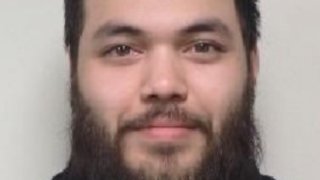 Massachusetts State Police say they are assisting Fitchburg police in a search for a 23-year-old man who has been missing since last month.
Ethan Freeman was reported missing on Jan. 19, state police said. He was last seen that night on foot in the area of Arlington Street in Fitchburg. It is believed he might have taken a ride share to the Belchertown, Amherst or Gardner areas.
Police said Freeman might have a gun with him. When he went missing, he had a license to carry, but that has since been suspended.
Freeman is described as 5'11" and about 210 lbs., with black hair and hazel eyes. He was last seen wearing a gray winter jacket, jeans, a black hat and gray boots.
A state police Air Wing, Special Emergency Response Team and K9 Unit are conducting the search on Wednesdya along with Fitchburg police officers.
Anyone with information on Freeman's whereabouts is asked to call 911 or Fitchburg police at 978-345-4355.