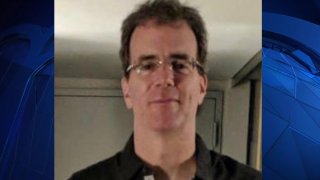 State and local agencies searched a reservoir on Sunday in Southborough, Massachusetts, marking the third day of their water search for a missing 57-year-old man.
Jeffrey Allard, of Ware, was reportedly last seen several days ago after leaving a medical facility in Marlborough, according to Massachusetts State Police.
Sunday's search of the Sudbury Reservoir did not turn up Allard or any evidence related to his disappearance, police said. It was the third day that state police have assisted the Marlborough police and fire departments in their search for Allard.
State police divers and personnel from the marine unit were joined in their search Sunday by the Boston Fire Department dive team and Massachusetts Environmental Police.
Last week, a state police helicopter and K9 unit were involved in searching the Farm Road area where the reservoir is located.
Authorities have not said why their search efforts have been focused on the area of the reservoir but did say they will not resume the water search on Monday unless they obtain relevant new information.
Officials did not specify the exact date Allard was reported missing, however the state police Twitter account retweeted a tweet saying Allard has been missing since last Sunday evening when he left UMass Marlborough Hospital without a car. The tweet also said Allard's family is very worried.
Anyone who may have seen Allard or has information on his whereabouts is urged to call 911 or the Marlborough Police Department at 508-485-1212.
More Missing People in Massachusetts