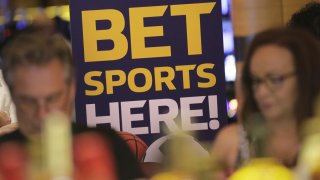 Interest in sports betting is high as a new NFL season kicks off Thursday night, but the regulators on the Massachusetts Gaming Commission spoke to eager bettors with one voice Thursday morning: You're going to have to wait a while.
After years of discussion and jockeying on Beacon Hill, the Legislature passed a legal sports betting bill Aug. 1 and it is now up to the commission to write the rules and build the regulatory framework for a new form of legal gambling in Massachusetts. The commission has been working for months to prepare for the task and is now in the early stages of the complicated and technical process of getting legal betting off the ground here.
"Our goal with this process is to make sure that such sports wagering is introduced correctly, operationally and legally, for the benefit of integrity and consumer protection. We accomplish this goal by working diligently to develop policy, establish a regulatory structure that equitably, fairly reviews ... potential operators," Chairwoman Cathy Judd-Stein said as she opened what is expected to be a lengthy commission meeting on sports betting implementation. "We know that the NFL kicks off tonight. And that, due to the nature of sports wagering, interest is piqued. We are rooting for the Pats. Our process will play out as it would have whenever this law came to the Gaming Commission to regulate and we will not compromise getting this right for anything. With that said, we also are aware of the import of timing."
Each commissioner echoed the chairwoman's remarks and Commissioner Brad Hill mentioned a segment he heard on 98.5 The Sports Hub's "Toucher and Rich" morning show while stuck in traffic Thursday morning.
"Today I actually got a little frustrated with it because they had a guest on and they were talking about sports betting and they made a comment that some think that we might be able to make a bet in three weeks at our brick and mortar casinos and our simulcasting facilities. And, obviously, that is not going to happen," Hill said. "And it was frustrating because of the hundreds of thousands of people that listen to that show and think that they might be able to place a bet here in Massachusetts, it was frustrating."
State Treasurer Deborah Goldberg testified before the Gaming Commission on Thursday, asking them to require that sports betting companies commit to cross-promote the Massachusetts Lottery and present a plan to mitigate any financial blow the lottery might see as a result of the latest gambling expansion.
"As you draft sports wagering regulations, I urge you to incorporate provisions that will ensure that the Lottery continues to sustain itself and grow its revenue, providing valuable resources for every community in the Commonwealth," Goldberg said. "While lawmakers project that sports wagering will generate $60 million in state revenue each year, only $16.5 million will be earmarked for unrestricted local aid. By contrast, the Lottery produced approximately $1.1 billion for our cities and towns just last year. Simply put, the Lottery plays a vital role in generating unrestricted local aid for our cities and towns, and it is imperative that we work to ensure it continues to do so."
Goldberg requested that sports betting applicants be required, prior to receiving a license, to present "a plan that can mitigate impacts on the Lottery" and that licensees partner with the Lottery on in-person and online cross-promotion efforts, similar to what is required of casinos and the state's slots parlor.
"So far, we have found that this framework has resulted in a productive, not to mention profitable, relationship with existing licensees," Goldberg wrote. "The Plainridge slot parlor is one of the Lottery's top performing retailers. And we are building toward similar results at MGM in Springfield and Encore in Everett."
Three years ago, Goldberg declared that "if sports betting is available online, the Lottery must be available online also." But while sports betting legislation got to the governor's desk before formal sessions ended Aug. 1, Goldberg's long-requested authorization for the lottery to sell some of its products online remains on ice while House and Senate Democrats try to decide how to move forward with their economic development bill. 
Copyright State House News Service