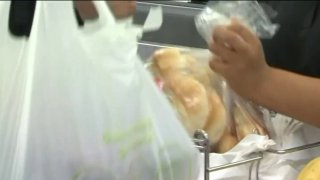 Get those reusable bags ready – Stop & Shop will soon eliminate single-use plastic bags at its stores.
The company said in a statement Tuesday that it intends to cut plastic bags from all its stores across the Northeast by July. Paper bags will still be available but come with a 10-cent charge. It's all an effort to help the environment by encouraging shoppers to use reusable bags.
Single-use plastic bags are hard to recycle because they can get caught up in the processing equipment at plants, according to the Massachusetts Department of Environmental Protection. While some stores will accept them in specific recycling receptacles, they can often wind up in the trash.
Cracking down on single-use plastic bags has become a common tactic for governments and even businesses looking to make a positive impact on the environment. While Massachusetts doesn't have a statewide law on the books, some communities, including Boston, have passed ordinances to reduce their use.  Other states, including California, New York and Connecticut, have laws that their use statewide. Many places also implement fees for single-use carryout bags – whether plastic or paper.