As the cold front that advances towards New England takes it's time passing through, we're still seeing a southerly flow in place, bringing with it the muggy, moisture-filled air from the south for most of Sunday and Monday.
Everyone's question is: Will this cold front bring the must needed beneficial rains that New England's extreme drought areas need? The downpours and scattered thunderstorms will bring the much-needed rainfall, but not drought-busting. The expected rainfall amounts are impressive compared to previous systems that moved through over the past month.
Expect spotty showers and the occasional downpour along and south of the Mass Pike around dinner time Sunday, otherwise, we'll see the mostly cloudy, muggy, and breezy conditions we've dealt with for most of the day. Overnight, we could see an impressive line of downpours with a threat for some embedded strong thunderstorms into central New England as the cold front finally passes through. More widespread showers and downpours are expected through Monday afternoon and evening as high temperatures only warm-up into the mid to lower 70s.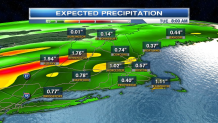 Fall officially begins on Thursday at 10:21 a.m. This is associated with the autumnal equinox. For the first fall weekend, it will certainly feel like fall as highs only reach into the low 70s Saturday, upper 60s next Sunday.