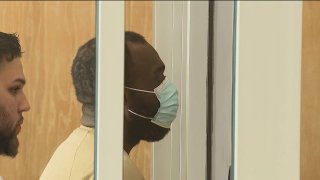 A man accused of stabbing a woman to death in Stoughton, Massachusetts, in December appeared in court Tuesday to face a new murder charge in the killing.
Victor Carter, 40, pleaded not guilty in Norfolk Superior Court after being indicted by a grand jury in February. He'd previously pleaded not guilty on a murder charge brought in Stoughton District Court — the new court hearing was prompted by the grand jury's new murder charge.
A doctor who examined Carter Tuesday recommended that, given how a psychiatric condition he has was manifesting, he be re-evaluated in a state facility for competency to stand trial, which the judge ordered.
Carter is accused of the violent killing of Amber Buckner, whose body was found in a shed behind a home on Park Street where the 40-year-old was living on Dec. 13.
"She had approximately 30 stab wounds, she had defensive wounds on her hands and the handle of what was later determined to be a 4-inch tactical knife was protruding from her temple," prosecutors said in court in January.
In the same shed as Buckner's body, prosecutors said, investigators found men's clothing, consistent with what Carter might wear, stained red-brown, consistent with blood.
Authorities have said Buckner and Carter had a relationship history.
Carter was arrested at New York City's Port Authority Bus Terminal.
If you or someone you know is experiencing domestic violence, contact the National Domestic Violence Hotline by calling 1-800-799-SAFE (7233), visiting www.thehotline.org or texting LOVEIS to 22522.