A Bermuda high will bring summer-like warmth to New England through Thursday as we round the bend into the middle of May this week.
Today features mostly sunny skies with highs reaching into the mid to upper 80s. Building southwest flow will keep temperatures in the upper 70s at the coast.
A dry and warm night is on tap across the region tonight as high pressure settles to our southeast and southwest flow continues to bring summer-like warmth north. Lows reach into the mid 60s south and low 60s north, running about 10 to 15 degrees above normal for this time of year.
Some highest low temperature records may be challenged. Hazy, hot and humid tomorrow with heat and humidity similar to the middle of summer in place.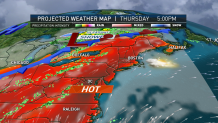 Abundant sunshine with highs reaching into the low to mid 90s inland tomorrow with low clouds and fog keeping temperatures in the upper 70s at the coast, upper 80s north.
A few scattered showers and a thunderstorms may develop western Mass and southern Vermont. A cold front traverses across the region on Friday, bringing relief to the region. Expecting a few showers move across the region during the mid day and early afternoon.
Cooler and more seasonable air moves in behind the front. Highs on Friday reach into the low 80s away from the coast and mid 70s at the coast.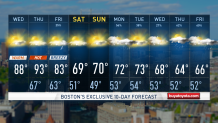 Looking ahead to the weekend, Saturday will feature comfortable and dry conditions. Sea breezes may develop during the day with light winds. Highs will be near normal in the upper 60s to low 70s.
Local
In-depth news coverage of the Greater Boston Area.
High pressure slowly shifts away from New England with clouds building overhead as an area of low pressure and associated warm front approach from the Great Lakes.
Expecting a mostly dry day at this time. Highs stay in the 60s.
Showers and rain move in for Monday, clearing out by Tuesday.