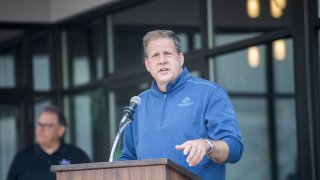 New Hampshire is bringing back its work search requirement for unemployment benefits, Gov. Chris Sununu announced Thursday as part of his weekly COVID vaccine briefing.
The requirement was waived as the pandemic ramped up, but it's returning on May 23. It doesn't mean that if a person can't find work, they will lose their benefits, Sununu said.
"There are tens of thousands of high-paying jobs across our state," he said at the briefing in Concord, adding that many people in the state will be vaccinated by then and that job fairs will continue to be held for prospective workers.
New Hampshire's unemployment rate is 3%, and Sununu said jobs openings are plentiful.
"I don't know anyone who isn't looking for workers right now," he said, highlighting the tourism industry's need for seasonal jobs.
At the briefing last week, Sununu announced that he'd be allowing New Hampshire's mask mandate to expire. It became the first state in New England to do so at midnight on Saturday, but he stressed on Thursday that he still wears a mask when he goes out.
"I don't think a whole lot changes," he said. "I think our habits are pretty good and I think people understand the importance."
The measure did not not limit private businesses or cities and towns from requiring masks, and some places, like Nashua and Keene, kept their mandates in effect. Sununu said the state's other pandemic-related safety measures will lift on May 7, including retail and restaurant restrictions and the "Safer at Home" edict.
State epidemiologist Dr. Benjamin Chan wasn't at last week's announcement of the mask mandate being lifted, but he said Thursday that was because he was out on vacation, and it wasn't a reflection of his beliefs about the measure.
"I think that myself, the governor, public health in general are all agreement with the importance of mask use continuing as a layer of protection. We have evidence, more and more evidence, that masks are effective," he said.
Nearly 93,000 people have tested positive for the virus in New Hampshire, including 515 cases announced Thursday. That includes more than 100 cases at the federal prison in Berlin, which Sununu said state officials don't have any influence over. One new death was reported, for a total of 1,274.
The seven-day rolling average of daily new cases in New Hampshire decreased over the past two weeks, going from 394 new cases per day on April 6 to 345 new cases per day on Tuesday.
New Hampshire began vaccinating people from out of state on Monday. Sununu said about 10-12,000 people have taken advantage of it so far, "far less than we anticipated."
Also on Monday, schools in New Hampshire returned to full-time, in-person instruction five days a week, though a few were allowed to stay partially remote.
Last week's announcement on the mask mandate followed a reduction in the state's seven-day average of daily deaths to 0.6, the lowest since October, before the mask mandate had been implemented. Hospitalizations remained at a manageable level, and over 70% of residents 65 and older had been vaccinated.
Reaction was mixed among Granite State residents, with some supporting the mask mandate's end and others calling it premature, with the pandemic still a danger.
"I'm disappointed New Hampshire made this call because we're not there yet, we're just not there yet. We see what's going on in the rest of the country and we need a little bit more time," said Jessica dePontbriand, owner of jajaBelle's Bakery in Nashua, last week.
"If it's crowded, I'll probably still wear it just because it's crowded," resident Judi Barthakur said. "But I go out a lot to walk and I refuse to wear a mask when I'm out there hiking and outside."
The Associated Press contributed to this report.
NBC/The Associated Press