Police in Hanson, Massachusetts, are searching for a man who allegedly approached children and tried to get them to get into his van over the weekend.
According to police, a caller reported that his son and a friend, who are both under 12, were approached Saturday on Whitman Street by a suspicious man, who reportedly asked the kids if they wanted any toys. When the children said no, the man told one of them to "just get in" to his van, police said.
The suspect is described as having a short buzzcut and glasses and is believed to be between 35-40 years of age.
The children ran away and told their parents. No one was hurt.
Officers found home surveillance footage that shows a white work van, possibly a Ford E-Series E-250 cargo van with roof racks and running boards, drive past the boys twice - the second time the van stopped and the driver spoke with them. The children said the van was rusty and had writing on the back, but they did not remember what it said, according to police.
The man drove off heading toward East Washington Street.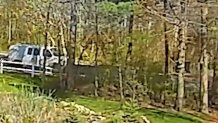 Anyone with information on this incident or who recognizes the van pictured above is asked to call the Hanson Police Department at 781-293-4625.
Local
In-depth news coverage of the Greater Boston Area.
"It's scary, you know?" said Christopher Stappen, whose Ring home security system captured the suspect's van. "You have little kids and a lot of kids in this neighborhood."
Stappen is keeping a closer eye on strangers lurking around his neighborhood after his home security system captured a man driving slowly down Whitman Street in a white work van.
"Going back and forth and then he stopped, the kids were playing over here," Stappen recalled of the incident. "Nine thirty in the morning, first nice day, and the guy is out in the morning trying to get kids in his van. I don't know."
Fortunately the kids knew something was off and walked away.
Stappen praised his young neighbors for knowing what to do in a situation like this and hopes his own kids would respond the same way.
"I tell my kids all the time, even when we were at the store the other day, 'Don't talk to strangers.'"