A driver who set off a police pursuit that ended on the Massachusetts Turnpike in Framingham on Thursday morning said he panicked and just kept going when he saw police trying to pull him over.
State police said they initially attempted to stop the vehicle shortly before 7 a.m. on the westbound side of the turnpike in Boston because it had an expired registration and the driver had failed to use a turn signal.
The driver refused to stop, so troopers put down spike strips to stop it.
The suspect, identified by police as Joseph A. Lyman, 46, of Monterey, is charged with driving an unregistered motor vehicle, failure to stop for police, failure to use turn signals and refusing to identify himself to police. At a court appearance Thursday his attorney said he has anxiety and panicked.
"I know I backed up traffic and caused a scare," he said Thursday outside court.
Lyman was driving between 55 and 65 mph during the chase, and twice used his hand to motion to the side of the road.
"It was just traffic cones and it was a frustrating situation," he said.
Police said Lyman declined medical attention. No one was hurt during the chase.
Aerial video showed over a half dozen cruisers surrounding a vehicle on Interstate 90 in Framingham around 7:45 a.m.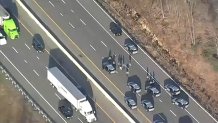 Thursday's chase was the second one in two days on the Mass. Pike.
On Wednesday, a suspect wanted on stalking and sex assault charges out of Maine and Illinois, respectively, was taken into custody in Strockbridge after a pursuit that started at the Charlton Service Plaza.
That suspect, identified by state police as Kevin Oldaker, 48, of Poplar Grove, Illinois, was wanted on two warrants -- one out of Maine charging him with violent stalking and another out of Illinois from February 2014 charging him with home invasion and sex assault.
After his arrest, Oldaker was taken to an area hospital for evaluation. He was booked and held overnight at the Worcester County House of Corrections pending a court appearance on Thursday, state police said.
Though both chases appear to have very different circumstances, retired Tropper Todd McGhee said both pursuits were justified.
"You still haven't determined the status of the operator even with looking with the registration. You don't know why the person is evading," McGhee said.