A man who was injured in a police shooting in Revere, Massachusetts, was ordered held without bail Monday on charges that he shot at police officers responding to a call Friday night of an armed man acting erratically on one of the city's busiest streets.
Daniel Cote, 32, of Revere, was arraigned Monday in Chelsea District Court on charges of armed assault with intent to murder, illegal possession of a firearm and ammunition, and discharging a firearm within 500 feet of a dwelling, according to the Suffolk County District Attorney's Office.
Revere police said around 9:30 p.m. Friday that they were investigating a shooting at Broadway and Fernwood Avenue. Officers were responding to a call reporting a man acting in a threatening manner.
According to Assistant District Attorney William Kettlewell, Cote shot at arriving officers, who returned fire and shot Cote in the foot. He was taken to a local hospital with non-life threatening injuries Friday.
A handgun, spent ammunition casings and a hypodermic needle were recovered at the scene, Kettlewell said.
A witness, who was withdrawing cash from the TD Bank ATM when the incident unfolded, told NBC10 Boston on Friday there was a man waving a gun in the middle of the street. He says several police cruisers arrived, and an officer told the man in the street to drop his gun and then several shots were fired.
Footage from NBC10 Boston's SkyRanger helicopter showed a large section of the road blocked off with yellow crime scene police tape and numerous police vehicles on scene. The yellow tape appeared to extend into the parking lots of both Walgreens and TD Bank, which are on opposite sides of Broadway.
One evidence marker was next to a gun that could also be seen on the ground right near a police vehicle.
Local
In-depth news coverage of the Greater Boston Area.
The witness said he ducked for cover, only 100 feet away from the gunfire.
"Walking to the ATM, turned around, heard someone yelling some stuff, next thing I know police are coming in, all of a sudden I hear 'drop the gun,'" he said. "Next thing you know, I'm turning to try not to look at the situation, just hear pow pow pow. Three or four shots rang out. Ran to get covered. Next thing I know the guy's down. And then I got out as soon as I can before I got blocked in."
Police confirmed an officer fired his weapon and struck the suspect. They said there was an exchange of gunfire, and the man fired first.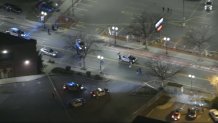 This was one of four separate incidents involving guns across Suffolk County over the past weekend.
"People carrying guns and being so willing to use them present terrible threats to our communities. But what's also extremely troubling here is where these incidents took place—including a crowded street in Revere, a busy gas station parking lot in Roslindale, and a playground in Charlestown. These are locations where people go about their daily lives," said District Attorney Kevin Hayden, who last week called the gun issue "a societal problem that demands a societal response."
Cote was ordered to undergo an evaluation at Bridgewater State Hospital. His next court date is April 29. An investigation is ongoing.