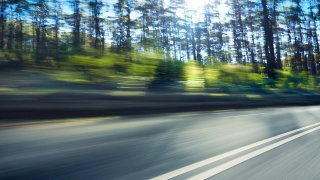 Two Massachusetts state troopers were almost hit by an SUV on Saturday morning while pulling someone over on Route 24 South in Avon, according to the agency.
While the two troopers were outside of their parked cruisers, police said, a 2014 Dodge Journey SUV unaware of slowing traffic on the highway rolled over and nearly hit them after striking a 2018 Jeep Wrangler that had been moving to the left lane to avoid the troopers.
The Dodge Journey, driven by a 37-year-old man from Middleboro, crashed into the two police cruisers that were parked in the breakdown lane with their emergency lights on. The two troopers escaped in time to avoid the collision, and neither was injured, police said.
The driver of the Jeep Wrangler, a 31-year-old woman from Raynham, wasn't hurt in the crash, which left the SUV moderately damaged, according to police.
An ambulance crew driving by stopped when seeing the accident and evaluated the Middleboro man for injuries, but he refused further medical attention, police said.
The man's SUV was badly damaged and police said he was cited for speeding, following too close, failure to move over for an emergency vehicle, marked lanes violation and driving an unregistered motor vehicle. One of the damaged police cruisers was severely damaged while the other had rear-end damage.