On Monday morning, there was a flurry of snow removal activity at the MBTA's Roslindale Crossing commuter rail station.
But on the sidewalk below, it was a much different story.
Every time it snows, residents in the heavily-trafficked area told NBC10 Boston the path has remained untouched.
"It never gets shoveled," said Evan Judd, who takes the commuter rail to work. "After a few days, it will be just an icy mess."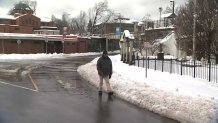 The tough sledding forces pedestrians to dodge cars in the street, or wait for the bus as vehicles pass just a few inches away.
Judd described the problem as an "anti-turf battle," one that has persisted for years.
"No one wants to take responsibility for it," he explained. "The state points the finger at the city. And the city points the finger back at the state. And then nothing gets done."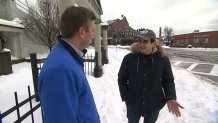 That irony was not lost on residents like Lisa Thompson, who braved the icy walk to work.
Local
In-depth news coverage of the Greater Boston Area.
"As a homeowner, if I don't shovel in front of my house, I get fined. But when this doesn't get done, who gets fined?" Thompson wondered.
The dispute was on display on Monday morning. Crews cleared steps at the commuter rail station, but abruptly stopped shoveling once they reached the sidewalk, drawing a literal line in the snow.
Fed up with the bureaucratic mess, Judd was one of the hundreds of people to call NBC10 Boston during a "Talk to Ten" event on Feb. 28. The phone bank asked residents to call about the issues happening in their neighborhoods.
"It's a perfect example of local and state governments failing their residents over some completely petty argument," Sugg said.
NBC10 Boston contacted the City of Boston and the MBTA on Monday. It did not take long to see results.
In the afternoon, commuter rail crews returned to Roslindale station with snowblowers, shovels and a sidewalk plow, quickly removing the piled-up snow from the pavement.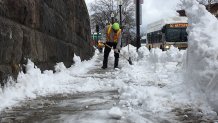 MBTA spokesman Joe Pesaturo confirmed the agency will now take responsibility for snow removal moving forward.
A City of Boston staffer reiterated that development.