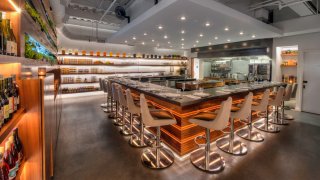 [This story first appeared on Boston Restaurant Talk.]
An award-winning dining spot that focuses on tasting menus is losing its space, though it appears that it could continue on in some form.
According to a source who is part of the Friends of Boston's Hidden Restaurants Facebook group, Tasting Counter at Aeronaut Brewing Company in Somerville is shutting down, with an email sent from the business saying the following:
It is with heavy hearts to announce that we must permanently close Tasting Counter by the end of this month....Our landlord, Aeronaut Brewing Company, notified us a few weeks ago that they will not renew our lease, a decision that will forever close the door to Tasting Counter...as difficult as this realization is, we've been given the gift of freedom. As we grapple with the news and impact this closure will have on our family, our staff, our guests, and our community, one thing remains certain – Tasting Counter WILL continue!....Just as Tasting Counter was always more than just a restaurant, the next iteration of Tasting Counter will expand on the work we started here. We've been given the green light to pursue our dreams, and we sincerely hope that you, as our guest and community supporter, will join us to continue the work we've started.
Tasting Counter first opened in 2015, receiving much in the way of accolades over the years including Boston Magazine ranking it #7 in the region in its latest list of best restaurants; in the post, BoMag says that chef/owner Peter Ungár offers "a rare mix of technical wizardry and artistic fire."
The website for Tasting Counter is https://tastingcounter.com/
Copyright Boston - Boston's Hidden Restaurants