As students in Boston settle in to the new school year, the city's school district is still working to hire teachers to fill stubborn vacancies, an issue plaguing education officials nationwide.
There were over 220 teacher vacancies districtwide as of the last week in August of this year, according to data provided by Boston Public Schools. That's a marked increase over the same week in previous years -- but that may not entirely be a bad thing, according to the president of the Boston Teachers Union, Jessica Tang.
"On the one hand, basically we are facing the same challenges other districts are in terms of having lost a lot of educators during the pandemic," Tang told NBC10 Boston in an interview. "But the silver lining about this is another reason we have so many extra positions open, is the district, to its credit, has added a lot of positions."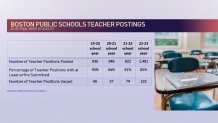 Since the last week of August, the district has managed to make a dent in those teacher openings, which now are under the 200 mark, according to BPS a representative. In a statement to NBC10 Boston, Boston Public Schools outlined the several approaches it's undertaking to fill the positions that remain open halfway through September.
Despite the newly added positions, Tang said teacher burnout is a factor reflected in the vacancy numbers headed into the 2022-2023 school year. Between the additional workload placed on educators during the pandemic and many teachers feeling unsupported or even attacked by their communities, Tang said many have called it quits over the past couple of years.
"What I've heard across the board, even from very veteran educators, is that last year was the toughest year they ever had in their professional careers," Tang said. "The attacks on teachers, the morale, the stress, the burnout, those are all real factors."
Teacher vacancies tallying in the 200 range would be "probably a lot for a smaller district," Tang said, and while more manageable for a school district the size of Boston, it's still "200 more than we should want to have here in Boston Public Schools," she explained.
With over 100 schools in the district's portfolio, each school would only be missing one or two teachers if the vacancies were evenly distributed, Tang said. However, she said that some schools have no vacancies, while others, like Madison Park Technical Vocational High School, have "more than any of us are comfortable with."
"Those schools in particular are getting the added supports and attention from central office," Tang said.
To address the teacher vacancies, Boston Public Schools said it's partnering with the city to conduct job fairs, as well as working directly with school and central office leaders to help recruit hard-to-staff areas. Tang pointed to physics and chemistry teachers as examples of positions that are especially challenging to fill.
In addition, Boston Public Schools is partnering with faith-based communities, which will hand out recruiting materials during services. The district has also teamed up with Boston University's Wheelock School of Education and the Mayor's Office of New Urban Mechanics to work with the higher education community, with a goal of reaching recent graduates and current students.
BPS said it also offers training programs for people who want to join the teaching workforce but lack the needed credentials.
In response to burnout concerns mentioned by the Boston Teachers Union, a district representative said BPS offers a "wide array of supports" for its teachers, while calling itself an "incredible place to work."
Tang hopes that this school year proves to be an easier one for educators not only in the Bay State, but nationwide.
"If we want to retain our educators, we need to make this a sustainable, respectable profession," Tang said. "It was really hard for teachers to be the heroes at the start, to being the villains. And then continuing to be vilified when in fact teachers have been going above and beyond every single day."