An 18-year-old has died after rescuers pulled him from the water when he failed to surface while swimming at a quarry in Gloucester with friends Wednesday, officials said.
Gloucester Assistant Fire Chief Robert Rivas said emergency responders were called to Vernon's Pit at 1:15 p.m. when the teen jumped into the water from a high cliff while swimming with a group of friends and did not come back up. Firefighters and police immediately responded and began searching the water.
Divers from Massachusetts State Police and Beverly Fire Department also responded to help with the search, Rivas said. The teen was unresponsive when he was pulled out around 2:50 p.m. and rushed to Addison Gilbert Hospital for further treatment. The Essex District Attorney's Office confirmed the incident was fatal Wednesday afternoon.
The victim has been identified as 18-year-old Everett resident Fabieri Fabert.
"It is with extreme sadness that I am informing the EPS community that Class of 2022 graduate Fabieri "Fab" Fabert passed away following a drowning accident on Wednesday, June 22nd. I ask you to join me in extending our deepest condolences to Fab's family, friends, teammates, and teachers," Everett School Superintendent Priya Tahiliani said in a statement.
Everett High School will be open on Friday for students who need additional support.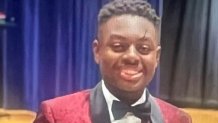 Rivas said the quarry Fabert jumped into is a well-known spot and popular for swimming. There are posted signs warning against swimming and trespassing on the property.
Local
In-depth news coverage of the Greater Boston Area.
"We try to keep it to a minimum but people find their way here," Rivas said, noting that the deep, cold and dark water makes for challenging terrain for rescuers.
"Our guys made a really valiant effort to get in there and get him out," Rivas added.
"Usually, once or twice a summer, somebody gets injured and they have to park an ambulance in my driveway to haul him out," said neighbor Micah Dean. "Unfortunately, today, it was worse than just an injury."
The quarry sits half a mile away from Dean's house.
Teenagers often jump from two points into the quarry. One is six to eight feet from the surface, while the other is closer to 20 feet.
Neighbors say hundreds of kids visit the quarry during the summer. They want kids to enjoy themselves, but they say there is no simple solution to keep people safe.
"Last year, they did have some rangers going up, and the rangers would patrol around regularly," said neighbor Laurie Ure. "But you can't have them up there 24/7."
"My family will swim back here on occasion when it's not very busy, and I think that's off limits for now," Dean said.