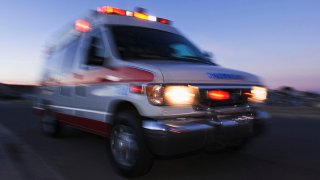 A teenager has died a week after being hit by an SUV while riding a bicycle in Wareham, Massachusetts, officials said Tuesday.
Tobey Alford, 14, had been flown to a children's hospital after the crash on the night of Tuesday, April 18, according to the Plymouth District Attorney's Office. Tobey was pronounced dead Monday.
He was hit by the driver of a Chevrolet Blazer at the intersection of Sandwich and Narrows roads, near the Route 6 bridge over the Wareham River, about 8:15 p.m., prosecutors said. The woman who was driving the SUV cooperated with police and was not being identified as of Tuesday.
Police and state police were still investigating the incident. Prosecutors didn't share more information about how crash is believed to have happened.
Wareham Police Chief Walter Correia said at a town meeting Monday that the woman left the scene, then came back, according to the Wareham Week.
"She was so nervous and scared that she left, went down the street to tell her husband, and they both came back," he reportedly said. "It's not like the person was trying to evade involvement in this."