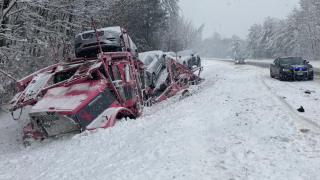 Monday's snow storm dropped up to 17 inches on parts of northern New England, though Massachusetts and the rest of southern New England didn't fare so badly.
Still, there were lots of wild stories -- and images -- that emerged from the storm.
Here are a handful that we felt had to be shared, in no particular order:
1. A college in N.H. was entirely cut off from the rest of town
Franklin Pierce University in Rindge, New Hampshire, was temporarily cut off from the rest of town Monday due to road closures related to the storm.
"The town of Rindge is currently experiencing full road closures on both Mountain Road and University Drive, completely isolating the entire college community from all emergency services," Rindge police said Monday afternoon. "We have requested an expedited response from Eversource in order to reopen at least one of those roads. In the meantime, we have been in contact with Franklin Pierce and made them aware that services will be provided in as timely a manner as possible."
The police department later provided an update on its Facebook page, saying that the roads had been reopened. Fortunately, no serious problems were reported during the period when the college was cut off from the rest of town.
2. A car carrier crashed on a N.H. highway. And then the responding tow truck was hit too!
During the height of Monday's storm, around 10:30 a.m., as white-out conditions were reported and snow was blanketing highways, a fully loaded car carrier went off the roadway on Interstate 89 south in Warner, New Hampshire, producing these wild images: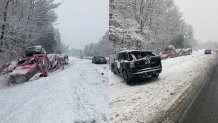 State police troopers said they arrived on scene to find a fully loaded car carrier off the road. One of the vehicles that was loaded on top of the car carrier had become dislodged and rolled off and onto the car carrier before coming to a rest in the right travel lane.
Fortunately, the driver of the car carrier suffered only minor injuries. However, a heavy-duty tow truck responding to the scene to remove the car carrier several hours later was then hit by a tractor trailer after it lost control while passing the closure.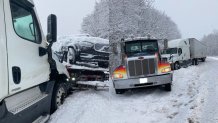 Again, no serious injuries were reported. But the driver of the tractor trailer was cited for driving too fast for the road conditions.
3. A plane skidded off an airport runway in Maine
A plane taxiing after landing slid off the runway at the Portland Jetport in Portland, Maine, during Monday's storm, forcing the shutdown of the primary runway at the airport, one of many travel incidents caused by slippery conditions.
NEWSCENTER Maine reports an American Airlines flight from Philadelphia slipped off the pavement. A shuttle bus picked up passengers to bring them back to the terminal. No injuries were reported.
Though the incident was minor, it set back airport operations while crews worked to clear the plane from the runway.
The National Transportation Safety Board will investigate the incident.
4. A ski mountain in Massachusetts lost power and had to close due to snow
All winter, we've heard the ski mountains pining away for snow, more snow! But then when it fell, it was a bit too much for at least one mountain.
Wachusett Mountain Ski Area in Princeton, Massachusetts, announced shortly after 5 p.m. Monday that they had lost power and would have to close for the rest of the night.
"Mother Nature, you win this round," they joked in a Tweet.
5. Some serious flooding during high tide
Many coastal areas of Massachusetts and the rest of New England experienced serious flooding during high tide on Monday.
Portions of Morrissey Boulevard in Dorchester were closed for several hours due to flooding.
Parts of Revere were underwater as well, as documented by NBC10 Boston photojournalist Mark Garfinkel: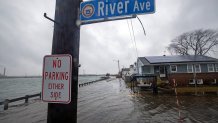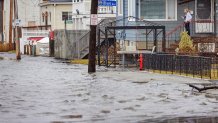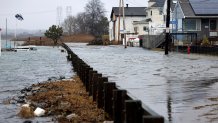 Other coastal areas like Duxbury were also affected.