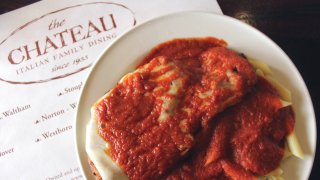 [This story first appeared on Boston Restaurant Talk.]
A local group of Italian restaurants will be opening a new location in the northern suburbs, moving into a space that had been home to a local group of family-friendly restaurants that focus on American fare.
According to a poster within the Friends of Boston's Hidden Restaurants Facebook group page, The Chateau Restaurant is planning to open in Woburn, with a Daily Times Chronicle article indicating that it will be taking over the former Joe's American Bar & Grill space on Mishawum Road. Once it opens, the new location of The Chateau will join others in Waltham, Burlington, Braintree, Norwood, Stoughton, Andover, Norton, and Franklin, and will likely offer a variety of pasta dishes and pizza along with chicken, veal, steak, and seafood options.
Joe's American Bar & Grill currently has two locations remaining in the local area, including one on the Boston waterfront and another in the Back Bay.
The address for the upcoming location of The Chateau Restaurant in Woburn is 311 Mishawum Road, Woburn, MA, 01801. The website for all locations can be found at https://www.chateaurestaurant.com/
by Marc Hurwitz
(
Also follow us on Twitter at @hiddenboston
)
---
[A related post from our sister site (Boston's Hidden Restaurants): List of Restaurant Closings and Openings in the Boston Area]
---
Please help keep Boston Restaurant Talk and Boston's Hidden Restaurants going by making a one-time contribution or via a monthly subscription. Thanks! (Donations are non-deductible.)
Copyright Boston - Boston's Hidden Restaurants