The New England Patriots and Atlanta Falcons are facing off for the first time since the stunning Super Bowl comeback earlier this year, and a victory on either side would be icing on the cake for one newlywed couple.
Jennie Nevins is a Falcons fan who grew up in Georgia, and her now-husband Patrick Nevins is a Patriots superfan who is dedicated to the Boston sports scene. The couple from Watertown, Massachusetts have opposing fandoms, but that didn't come between them until the two teams were set to face off against one another in Super Bowl LI.
"It happened to be the year that we were engaged," said Jennie Nevins. "We figured if, on the off chance the Falcons and the Patriots would be facing off in the Super Bowl together we would make things interesting."
So they made a high-stakes bet on who would win the Super Bowl last year. The winner would get to have their team's helmet as the wedding cake and have supreme bragging rights at the ceremony.
"I initially wanted it to be what we would wear for the wedding, but I knew Jennie wouldn't go for a Patriots wedding dress," said Patrick.
It was looking like the bride would be able to show off her Falcons pride at her wedding in Atlanta, but an epic comeback from the Patriots crushed those dreams. Patrick chose a wedding cake celebrating the Patriots last Super Bowl win that sat right next to their table at the reception.
"It was tough," said Jennie, "it was in eye shot all night."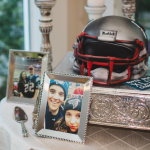 Patrick's friends put some salt on the wound by coming to the wedding decked in Patriots logos and presenting the newly-married couple with a trophy showing the final score.
Local
In-depth news coverage of the Greater Boston Area.
There is no bad blood between these two football-loving fans, but things might heat up on Sunday night when the two teams go up against each other once again.
"Its a little bit like revenge, but I know that nothing will be the same as that Super Bowl victory. I will take the small victories when I can get them and hopefully we can face off again in the Super Bowl this year."