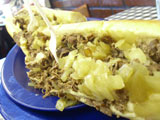 Earlier this month, Seaport neighborhood got its first pharmacy, with the opening of a brand-spanking new CVS. Now, there's another development about which people can get excited: MiniLuxe, a Boston-based startup run out of Cue Ball Capital, will be opening its doors in Seaport this week, bringing its high-tech beauty services to the community there.
According to WS Development, the developer responsible for building out the new retail plaza Watermark Seaport, MiniLuxe will open at 81 Seaport Boulevard on Friday, Nov. 4. The studio will occupy 1,550 square feet, featuring nine manicure stations, eight pedicure stations and a "Groom Room" used for waxing services. It will be in the same vicinity as the newly opened CVS Pharmacy, YO! Sushi, Shake Shack and Blue Hills Bank.
"MiniLuxe is not only the first nail and waxing studio in the Seaport, but it is also a pioneer and trendsetter in beauty services," Brian Sciera, VP at WS Development, said in a statement. "We are thrilled to bring this exciting addition to the neighborhood – it offers both residents and those who work in the district a convenient and high-quality studio for pampering, morning, noon and night.
Local
In-depth news coverage of the Greater Boston Area.
While MiniLuxe may not actually have the area's first nail and waxing salon (blo seaport has that honor), the latest expansion is still a feat as it will be the startup's twelveth location in Massachusetts.
This past July, MiniLuxe raised $7.5 million in funding from Cue Ball and Horowitz Group, both of whom led its $23 million round of funding in October 2014. At the time, Tony Tjan - co-founder and chairman of MiniLuxe, as well as CEO and managing partner of Cue Ball - had told us they would be using the funds for expansion, as well as investing in staff development, technology and infrastructure.
More stories:
Copyright Boston - BostInno