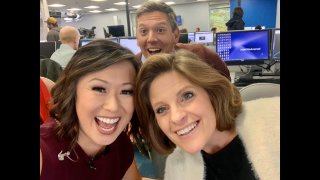 How well do you know your co-workers? Here at NBC10 Boston and necn, we've been getting to know ours a lot better thanks to reporter/anchor Susan Tran.
This month, she's been asking our coworkers to tell her three things she doesn't know about them and sharing the results with #3ThingsIDidntKnow. They're fascinating!
We have a former "The Price Is Right" contestant as well as someone who tried out for "American Idol." One of our anchors once held an NCAA record. There are plenty of unusual pets: a duck, a rescued crow and a ram one of us got for her 8th birthday!
Read carefully and you can see where U.S. tennis star Andy Roddick got in on the fun, too.
Be sure to follow Susan Tran on Twitter for more on her #3ThingsIDidn'tKnow project to continue to get to know the NBC Boston staff.