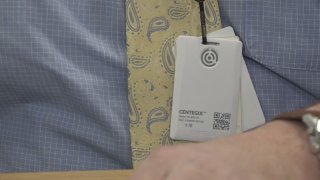 School staff in Bangor, Maine, now have a way to lock down their classrooms hanging around their necks.
The city is the first in New England, and the Northeast, to implement a lanyard-based emergency alert system, school officials say, one that lets teachers, staff and substitutes send out notifications about things like fights or medical problems and, in a more dire emergency, start a lockdown and send a message to local law enforcement.
With the Centegix Education CrisisAlert system, staff can press badges that hang from lanyards three times to send an alert for a low-level emergency and eight times to initiate the lockdown. NewsCenter Maine reported Thursday that it's been used four times for low-level issues since it was put in place at the start of the year.
"The ability to communicate and respond quickly in times of emergency is key to our safety mission. We are proud to be the first school in the Northeast to offer this communication tool to protect our students," Bangor School Department Superintendent James Tager said in a statement last month.
A teacher and a student told NewsCenter Maine that the CrisisAlert system makes them feel safer.
"I just think it's really important that we prioritize safety at school. A lot of kids don't have it anywhere else," Bangor High School senior Kaeleigh Bowen told the NBC affiliate. "A lot of kids don't have it [a safe space] anywhere else."
Tager told the news station that the cost of the system, $409,00 for five years, provides "peace of mind [that's] worth every penny."