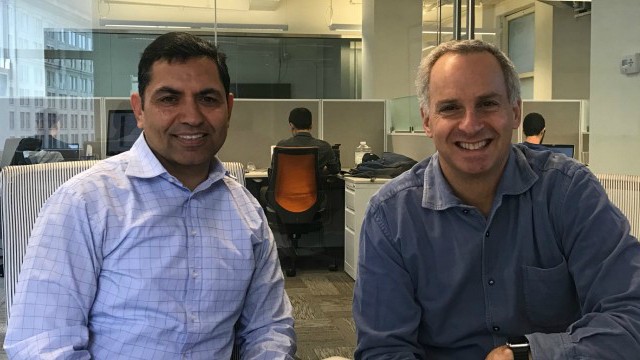 Randy Battat and Sanjeev Verma have been co-workers for a very long time.
In 2000, they co-founded the wireless infrastructure provider Airvana, which went public in 2007. Now, the former Apple and Motorola executives are, respectively, the CEO and the chairman of PreVeil, a just-launched cybersecurity startup with offices on Devonshire Street. They've also been selected as one of the ten finalists for the 2017 MIT Sloan CIO Symposium Innovation Showcase.
"If we could make encryption really easy to use, then lots and lots and lots of people will use it," said Battat.
Local
In-depth news coverage of the Greater Boston Area.
The first product the company is working on is an email service that allows professionals to send secure, encrypted emails. The system deals with all the technical parts of the process - and that's a strong point. Everyone who knows how to send an email can join PreVeil - which is currently in its beta program, so available for free - and send encrypted emails.
"If we could make encryption really easy to use, then lots and lots and lots of people will use it.
PreVeil can be added to a regular mail client, so users don't need to change their email address to use the service. The secure account will appear as a second Inbox, so users can easily switch from one to another and send encrypted messages whenever it's the case. When new users get an encrypted email from PreVeil, they're asked to join the service before reading the message.
For those of you interested in the technical part, here's the "behind the scenes" of PreVeil, explained. If you're not interested, just skip the next three paragraphs.
When I wrote about Kryptco, I tried to explain as best I could that several encrypted communications need two keys: a public key, which everybody knows, and a private key, which only I know and use. If the source of my next scoop wanted to send me an encrypted message, she would write the message, encrypt it with my public key, and then send it to me. Then, I would decrypt the message with my private key.
PreVeil adds another level of security to this system. Let's say, for example, that the source of my next scoop wants to send me a tip via email, and that we both use PreVeil on our email accounts. The source of my next scoop (the sender) writes a message aimed at me, Lucia (the recipient). PreVeil encrypts that message by generating and using a new key, which we'll name the "message key." Source of my next scoop, please: feel free to contact me.
OK, stay with me now. The next step is, PreVeil encrypts the message key with Lucia's public key, since I'm the recipient. At this point, when both the message and its key look like an absurd sequence of characters, they leave the laptop of my source and arrive at the server. Now, it's my turn. On my computer, PreVeil will use my private key to decrypt the message key. With the message key now revealed, PreVeil will decrypt the message and I could finally read the exclusive information that my source is sending me.
As I said before, you don't need any of the previous information to use PreVeil. What you need to keep in mind is, even if the server is hacked, your information will stay encrypted.
So far, PreVeil email is only available for iPhone, Outlook on PC, MacMail and Windows on Mac. The company said it will add the Android version soon and an "Outlook for Mac" version in a few months. Battat added that the company is expected to go commercial around late summer or late fall.
When the email service moves out of beta, there's still going to be a free version of the encrypted email service. "But you'll get more storage and a few more features with the paid version," Battat pointed out.
PreVeil is also working on "an encrypted Dropbox" - a file sharing application where all the files are kept encrypted, with a beta program that's supposed to start in the summer.
More BostInno Stories:

Copyright Boston - BostInno