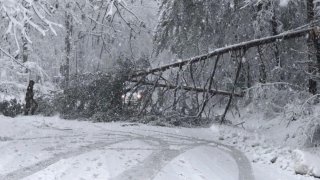 Thousands of people were without power on Friday morning across Massachusetts and New Hampshire as a snowstorm continues to blast the region.
The Massachusetts Emergency Management Agency was reporting over 1,000 customers without electricity at 9 a.m., mostly in the Merrimack Valley and on the North Shore, though some outages have also been reported in Plymouth and Worcester counties, on Cape Cod and in the western part of the state.
In New Hampshire, the situation is a bit worse, with Eversource reporting about 1,700 outages. Unitil is reporting another 67 outages, and New Hampshire Electric Co-op another 36 customers without electricity.
Green Mountain Power in Vermont is reporting 344 outages, and Central Maine Power has 2,130 customers without electricity.