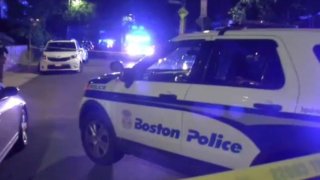 Three women have been charged in connection with a violent attack last month in Boston that left another woman with multiple facial fractures and an injured blood vessel in her neck.
The attack occurred around 12:49 a.m. on Feb. 18, when police were called to a fight on Shandon Road in Dorchester, according to the Suffolk District Atttorney's Office.
The victim, a 41-year-old woman, and a witness, told police they had driven to the address to pick up a friend. The victim said she knocked on the friend's door, and when there was no answer, returned to the car.
She said she was then attacked by a group of women, who punched her, knocked her to the ground and then kicked and punched her in the head.
The victim told police she knew her attackers and said they might have been motivated by their belief that she was involved in a relationship with a mutual acquaintance.
The three women were eventually identifed by police and issued summonses to appear in court.
Two of the women -- Jalisa Banks, 31, of Jamaica Plain, and Candace Phillips, 37, of Dorchester -- were arraigned Monday on charges of assault and battery and assault and battery with a dangerous weapon (shod foot) causing serious bodily injury. Both were released on personal recognizance bail and ordered to have no contact with the victim. They are scheduled to return to cour ton May 10 for pre-trial hearings.
The third woman -- 33-year-old Taranesia Williams of Dorchester, was arraigned Friday on the same charges. She was also released on personal recognizance bail and ordered to stay away from the victim. She is scheduled for a pre-trial hearing on April 28.