We've dropped our First Alert as the potential for severe weather across Massachusetts, Connecticut and Rhode Island has passed.
Six tornado warnings that were issued for parts of Massachusetts, Connecticut and Rhode Island earlier Saturday evening have since expired.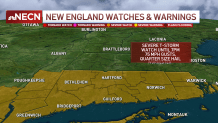 Trees and power lines were reported down on Cape Cod and across southeastern Massachusetts, Connecticut and Rhode Island. Hail was also reported in areas around Greater Boston and Connecticut.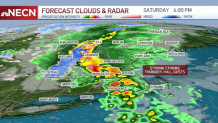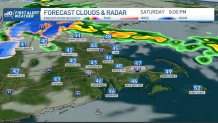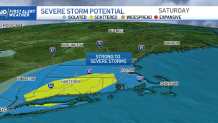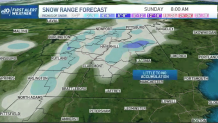 Behind this fast moving system we'll see cooler temperatures with rain across the interior of southern New England possibly mixing with snow across the higher elevations before shutting down early. Central and northern areas will see snow across the higher elevations Saturday night, with several inches possible. Lows will be in the 30s and 40s south, 30s north.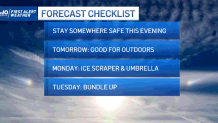 It will be a breezy Sunday with lots of sunshine south and a diminishing wind. There will be a few clouds leftover north with snow showers across the mountains. Highs will be in the upper 40s to around 50 south and 40s to the north.
Local
In-depth news coverage of the Greater Boston Area.
We'll turn unsettled Sunday night into Monday with the chance for more rain showers and higher elevation snow showers. Lows Sunday night will be in the 30s, with highs Monday in the 40s.
This is just a hint to let you start planning for some frosty nights again. You'll want to keep that ice scraper handy for lows dipping into the 30s and 20s once more.
If you really really miss the good old mild days, we'll get one more shot into a rise for the 60s on Thursday, but it won't be lasting for too long. As soon as Friday arrives, the frontal boundary will take care of bringing us back to fall reality and dropping our highs into the 50s once more.
In our marine forecast, we'll be watching choppy shores, dangerous conditions for mariners and waves that will continue to build up Saturday night. A moderate risk of rip currents will also continue through Sunday morning.