If this is it, please let me know.
While Tom Brady is apparently good friends with his Bay Area brethren, don't expect the Patriots quarterback to give any firm answer along the lines of the Huey Lewis lyrics as to whether 2019 is, in fact, it for him.
For the first time in 20 seasons, Brady, 42, is in the final year of his contract with New England. The uniqueness of that situation has compounded what's been a strange week for Brady, from his appearance on the Netflix series "Living with Yourself" to the testy media availability session that followed to his weekly appearance on WEEI's "The Greg Hill Show."
A firestorm erupted last Friday night when the show, starring Paul Rudd, depicted Brady walking out of "Top Happy Spa" when confronting Rudd's character pulling up to the same location.
Brady vigorously downplayed the quite plausible leap that his cameo was a shot at Patriots owner Robert Kraft, who found himself embroiled in controversy earlier this year on misdemeanor solicitation charges involving a Florida spa.
"I think it's this type of media atmosphere that you create – the blame and shame media atmosphere that's kind of percolated for a while," Brady said last Saturday. "I think there's a lot of things that are said that are taken out of context, that you choose to make a headline of as opposed to understand what it's actually about."
The distraction was an unnecessary one for Brady, who once again finds himself dealing with upheaval in the passing game. Remember when Antonio Brown, Demaryius Thomas and Josh Gordon were on this roster? When Matt LaCosse and Ryan Izzo were the top two options at tight end?
Local
In-depth news coverage of the Greater Boston Area.
For years, what's driven Brady has been his pursuit of "the next one," meaning the next Super Bowl ring. That, and a desire to play until he's 45 years old. Which is why it's a tad alarming that he began waxing nostalgic on the Hill show this week.
"I never expected to play 20 years and I am playing on a great team and it's just been an incredible 20 years of my life," Brady told Hill. "To play for Mr. Kraft, and Jonathan and the Kraft family and for Coach Belichick and to have so much success is a dream come true."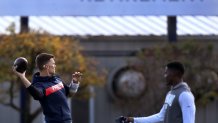 ESPN's Adam Schefter went so far as to say on TV prior to Monday Night Football last week that of Brady's three options following this season – stay in New England, retire, or play elsewhere – that coming back to the Patriots for a 21st season was the least likely of the three.
Retirement just doesn't seem like an option for Brady, not when he's continuing to chug along at his steady pace. He's right in line statistically through seven games with where he was in 2018. His completion percentage is down a tick, from 68 to 65.9 while throwing for 116 more yards (1,992 vs. 1,876). He's got 11 touchdown passes and four interceptions in 2019 after throwing for 16 touchdowns along with seven interceptions at this point in 2018.
His dip in passer rating from 99.7 through seven games in '18 to 94.8 this year is negligible. The long-rumored, much-ballyhooed cliff remains far off in the distance for Brady, contract extension or no.
Months remain before any final decision on Brady's future with the Patriots needs to be made, with a run at another Super Bowl still in the cards between now and then.
"My situation hasn't changed in many months, so I don't know why it gets brought up now," Brady said at his media availability on Friday.
Brady was a great deal more relaxed when pressed about his future during his latest session, returning to a range of answers we've grown accustomed to hearing through the years.
With New England at 7-0 for the third time in Brady's career, perhaps a pursuit of the last thing Brady needs to accomplish – an undefeated season – has him laser focused once again after a bizarre week that can be chalked up as just another day at the office in Foxboro.
"I think it's just hype," Brady said. "Everyone's trying to make money. That's what it's about. I don't get into it, my situation hasn't changed, so I'm just focused on what I'm always focused on, which is trying to be a great quarterback this week for this team."