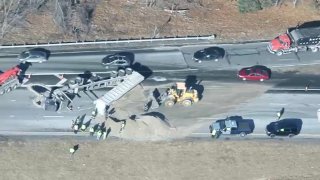 Two car crashes on Route 495 caused traffic delays on both sides of the highway Wednesday morning.
In Andover, a tractor-trailer rollover crash caused a gravel spill on I-495 southbound, just south of the I-93 southbound on-ramp. Three lanes were closed due to the crash, with only the high-speed and breakdown lanes getting by. The ramp from I-93 southbound remains open but to may need to be closed temporarily for cleanup. 
Crews had to upright the tractor-trailer and brought a bulldozer in to clear the debris. The Massachusetts Department of Transportation said commuters should expect major delays and avoid the area if possible.
A second crash occurred on the northbound side of Route 495. Crews are working to clear that as well. No further information was immediately available.
Sign up for our Breaking newsletter to get the most urgent news stories in your inbox.