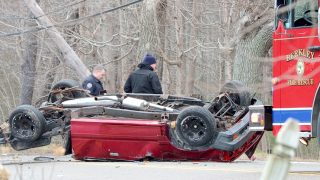 A high school student in Taunton, Massachusetts, was killed in a car crash Sunday morning, officials announced.
"It is with deep regret that I inform you all that we have had a student pass away unexpectedly this morning, Jan. 15., in a tragic automobile crash," Bristol-Plymouth Regional Technical School Superintendent Alexandre Magalhaes shared in a statement that was posted to the school's website.
"We are all deeply saddened to hear of this tragic loss," the superintendent added. "Our thoughts and condolences go out to the family and friends of this student and the entire school community."
The Bristol County District Attorney's Office identified the student as 16-year-old Dylan Quinn, of Rehoboth.
According to the DA, Quinn was a passenger in his friend's Mazda pickup truck when the vehicle crashed around 7:30 a.m. on Myricks Street in Berkley. Quinn was rushed to Saint Luke's Hospital in New Bedford where he was pronounced dead. The 16-year-old driver suffered non-life threatening injuries in the crash.
The district attorney said the two boys had just left a Dunkin' and were headed back to the friend's house when the truck struck a telephone pole and tree before rolling over and coming to a rest upside down.
There are no classes at Bristol-Plymouth on Monday due to the Martin Luther King Jr., holiday, however counselors are scheduled to be available from 8 a.m. to noon inside the high school cafeteria. They will also be made available in the coming weeks for anyone who needs them, Magalhaes said.
Local
In-depth news coverage of the Greater Boston Area.
"Students and the entire school community are encouraged to talk to counselors, faculty and parents, as this tragedy is sure to raise emotions, concerns, and questions by all," the superintendent said.
Bristol-Plymouth, which has been in operation since September 1972, serves the towns of Berkley, Bridgewater, Dighton, Middleboro, Raynham, Rehoboth and the City of Taunton, according to the high school's website.
Officials did not identify the teen who was driving at the time of the wreck, or say if he is also a student at the same high school.
An investigation into the fatal crash is active and ongoing.