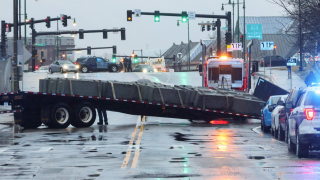 A portion of Washington Street in Boston's Jamaica Plain neighborhood was closed down on Thursday morning, after a trailer came apart from its truck and blocked part of the road.
The trailer, seen shortly before 8 a.m. Thursday in the middle of the road, came apart from the truck cab carrying it at the 3100 block of Washington Street. The call came in to police around 7 a.m.
For reference, that's near the Forest Hills MBTA station.
No one was reported hurt in the incident, Boston police said.