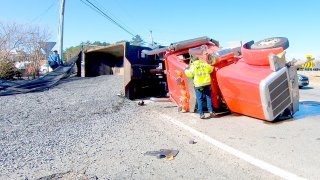 A truck crashed on the Bourne Rotary, near the bridge to Cape Cod, on Tuesday morning, spilling gravel onto the median of the road.
The crash and subsequent cleanup prompted the closure of the right lane of the road for hours, according to the Massachusetts Department of Transportation.
Footage from the scene showed a dump truck on its side.
State police said the driver, a 58-year-old from Hyannisport, is believed to have had minor injuries. The driver of a van, which was also involved in the crash — police didn't say how — is also believed to have had minor injuries. But neither person needed to go to the hospital.
The driver was cited for failing to yield, police said.