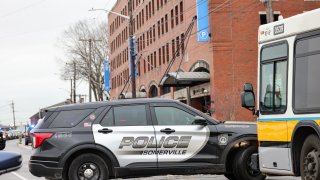 Tufts University received a bomb threat for the second straight day on Thursday, prompting school officials to postpone some exams and shift all remaining ones to a virtual format.
"A Bomb Threat has been reported affecting the Tufts University Medford/Somerville campus," an alert from the school stated.
The Tufts Daily said on Twitter that the threat has led to evacuations of the Cummings Center, Bendetson Hall, East Hall and Anderson Hall. Students are being told to shelter at the Gantcher Center at 161 College Avenue in Medford if needed.
It was the second bomb threat received by Tufts in the last 24 hours.
In a message sent to students Thursday afternoon, Tufts said to avoid further disruptions to exams it would postpone anything schedule from noon onward on Thursday, and any remaining exams this period will be done online. Professors will communicate their individual plans with students. Libraries, laboratories, and dining services will all remain open and campus operations are back to normal.
Anyone with questions can contact the Dean of Student Affairs. Mental health support and other resources are also available.
Multiple buildings on campus were evacuated Wednesday afternoon after a bomb threat, including Ballou Hall, Miller Hall and the Campus Center. An all-clear was announced about an hour later and people were allowed back into the buildings.
Tufts University officials confirmed the threat and a tweet was sent out by the university's official Twitter account shortly after 4 p.m.