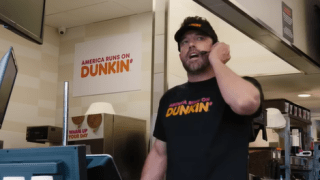 Super Bowl commercials are a national phenomenon, and Dunkin's highly-anticipated ad starring Ben Affleck was a massive hit on Sunday.
"Ben Affleck has always been a member of the Dunkin' family, but tonight we made it official during the big game," Dunkin' said in a press release posted to its website. "We wanted to recognize the love our guests have for Dunkin' by making our #1 fan's dream come true by working behind the counter and treating his fellow patrons."
In the ad, Affleck -- with his notoriously thick Boston accent -- is seen donning a Dunkin' uniform and working the drive-through of a Dunkin' restaurant in Medford, Massachusetts.
As guests place their orders, Affleck announces one of the chain's latest offers to hit the menu – the Dunkin' Run, where guests can get a $1 classic donut with any medium or larger coffee.
While working his "shift," Affleck is surprised to see his wife, Jennifer Lopez, show up at the drive-through window -- and she's equally shocked to see her husband taking donut orders.
"What are you doing here? Is this what you do when you say you're going to work all day?" she queries her husband, to which he tells his "co-workers," "I've gotta go, guys."
Lopez then quips to her husband, "Grab me a glazed."
Affleck was spotted slinging drinks at a drive-thru in Medford back in January — a woman who took a photo of the "Batman" and "Good Will Hunting" star told NBC10 Boston the movie star was quick-witted and funny when they talked. Lisa Mackay said she signed a form for video of her to be used and was told by crew members that they were filming a commercial.
The chain had unveiled a teaser trailer for the commercial last week, promoting it on Thursday with the tag "Something's Ben Brewing."
According to Dunkin', the movie star's long-standing love for the restaurant started when he was a kid in Massachusetts.
"Like so many Dunkin' diehards, growing up with the brand made him a lifelong fan. So much so that he took a morning shift to share the love and serve real Dunkin' guests in our latest commercial," Dunkin's press release continued. "That's the thing about Dunkin' – the classics bring back childhood memories and feel like home, no matter where or who you are."
Here's some of Twitter's reaction to Dunkin's first-ever Super Bowl Commercial:
Dunkin' said while this is a first for the chain and Affleck, it certainly is not the last!