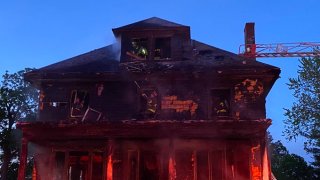 The Boston Fire Department helped two people and a dog safely escape a fire in West Roxbury Wednesday morning. One firefighter was taken to the hospital with minor injuries.
Crews responded to a two-alarm fire that broke out in a 2.5 story building at 44 Oriole Street around 4 a.m. Wednesday. There was heavy fire on all three floors, according to the Boston Fire Department, causing about $750,000 in damages to the building and a car.
All residents were safely evacuated.