Police say two bank robberies were reported within five minutes of each other on Hanover Street in Boston's North End on Friday morning, and they're asking for the public's help finding a suspect.
The first was reported at 9:10 a.m. at a Santander Bank branch at 287 Hanover St., and the second at 9:14 a.m. at a Citizens Bank branch at 315 Hanover St.
An attempted bank robbery was also reported at a Century Bank branch at 275 Hanover St.
Police said the same person is believed to have robbed the first two banks and attempted the third robbery. The suspect remains on the loose and is described as a man in his 30s who was wearing a red jacket and a black mask.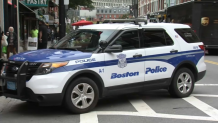 Police said the suspect was unarmed and no one was hurt. They didn't say how much money was taken.
Two images of a man holding a CVS bag were shared by police Friday evening, asking anyone with information about the man or the robberies to call 617-343-4248.
"No weapons were shown during the incidents but the suspect gestured as if he had one in his possession," police said in the statement.
Nolan Dohaner is visiting Boston and thinks he saw the robber.
"I don't know which direction he went," he said. "I was in the storefront across the street. He looked pretty calm and collected, like maybe he'd done this before, I would say."
"At 9:30 in the morning there's all the delivery trucks and things like that," said Mike Pergula of Boston. "I guess there's a lot of action. Maybe it's a good time to do it."
The bank robberies remain under investigation, Boston police said. The FBI is assisting.