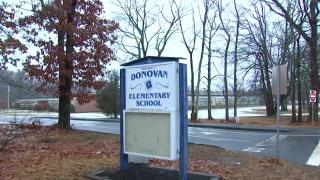 An elementary school in Randolph, Massachusetts, was under a shelter-in-place order twice over the span of a week over shell casings found in classrooms, Randolph police said Friday.
The first incident at Donovan Elementary School was on Friday, Jan. 13, when a shell casing was found in a fourth-grade classroom. A second one was found in the same room the following week, on Thursday, Jan. 19, according to police.
Police responded and police dogs swept the school. The search didn't turn up any weapons or additional cases.
Investigators still don't know how the casings got into the school. Anyone with information is asked to call Randolph Police at 781-963-1212.
Administrators held meetings with all K-5 homerooms and plan to hold a forum for families to discuss school safety.
"The safety and well-being of our students and staff is our top priority and we understand that these incidents are concerning to our families," Superintendent Thea Stovell said in a media release.
More to come.
Local
In-depth news coverage of the Greater Boston Area.