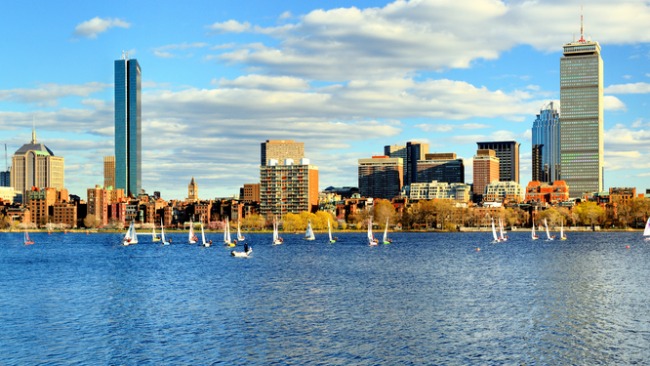 "Entrepreneurs may break the rules, but a lot don't break the law."
That's how Chetan Maniikantan described his mindset when leaving his edtech company Guru-G Learning in India to pursue opportunities in the United States. Regardless of the startup appeal in America, he explained, the first goal for any foreign entrepreneur is to find a way to remain in the country.
Fortunately, through networking sessions in Silicon Valley, Chetan heard about University of Massachusetts' Global Entrepreneur-in-Residence program (GEIR). This is the program that would eventually lead to the launch of his own company.
Local
In-depth news coverage of the Greater Boston Area.
Chetan is one of the 34 members involved with GEIR, a program which sponsors foreign entrepreneurs so they are able to receive H-1B visas. Since universities are not considered private employers, they are exempt from the H-1B cap that many other companies rely on.
Think it's a sweet deal? So does the rest of the country. According to the Ellis Project, UMass Lowell and Babson followed respectively and created their own GEIR programs. Additionally, schools in Alaska, Colorado, Missouri and California and last month, Chicago announced that many of its universities will be joining in on the program.
Here's how it works: UMass employs program members in its Venture Development Center (VDC) on a part-time basis. According to Aijan Isakova, the program manager for the GEIR program here at UMass Boston, entrepreneurs stay "employed" by the school, and work about 8 hours per week.
Chetan, for example, holds office hours, mentors student projects, and serves as a subject matter expert. In the past, he's represented VDC at various conferences and events to "champion the cause of innovation and entrepreneurship."
Entrepreneurs then spend the rest of their time making moves on their startup company, to the point where the company can sponsor an H-1B visa, Aijan explained.
"VDC in turn has offered me a launchpad to build and grow our venture and to hire the best talent, find local partners and investors," Chetan mentioned. He ended up creating Tengu Pay, a platform meant to streamline digital, international payments.
To date, GEIR has led to the creation of 25 startup companies, which have raised a total of $226,502,265 in private investment and have a headcount of 373 employees.
As key stakeholders in the foreign entrepreneurship ecosystem, Aijan and Chetan shared their ideas on President Donald J. Trump's recent "Buy American, Hire American," executive order, which reexamines the 85,000 H-1B visa cap. The administration would offer changes to make H-1B visas only awarded to the "most-skilled or highest-paid applicants," reported the Boston Globe.
"Trump will be more targeting employers that are dependent on the cap of visas, which I believe is about 85,000 a year, but because we are a University...that rule does not apply to us," she said.
Instead, Aijan cited the Trump administration's temporary suspension on premium processing for H-1B visas as a potential hardship.
"Premium processing slows down the H-1B processing time from 2 weeks to 3-6 months, causing delays for all H-1B cases (capped and exempt)," she said. "Entrepreneurs now have to think in advance. We recommend start planning once your OPT commence. We hope suspension will be lifted after 6 months as proposed."
According to Chetan, however, GEIR shows that the idea of foreign entrepreneurship doesn't necessarily need to be a partisan issue.
And looking at the inner workings of the GEIR program seems that Chetan's optimism is rooted in reality. Governors Deval Patrick (D) and Charlie Baker (RR) combined forces with University of Massachusetts to create the program.
"My guess is that regardless of who they are, whether they are Republicans or Democrats, Universities attracts all the best people in the world to come innovate and learn," Chetan said.
Aijan added: "I think Massachusetts has always been a leader in the country, in the innovation center," she said. "We set a high standard...and because is such a controversial subject, people wanted to change the status quo, we should people the program can achieve just that."
More BostInno Stories:
Copyright Boston - BostInno