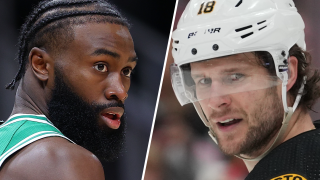 Would you believe we're about to get back-to-back days of Game 5s here at the TD Garden?
It felt like a Boston doubleheader on Sunday, the Bruins with their matinee win over the Florida Panthers and the Celtics with a win at night against the Atlanta Hawks.
The Bruins have had a tougher first round than many fans expected.
But even with Patrice Bergeron and David Krejci out, the B's managed to put on an exciting game – with two power play goals in the first two periods. That helped carry the Bruins to a 6-2 win over the Panthers Sunday afternoon.
They head home leading the series 3-1, knowing every game is its own challenge.
"We did a great job responding to a little bit of adversity, but these games are over and done with and they have no bearing on how the next one's going to be played, and the outcome of it, so we have to regroup," Brad Marchand said. "They're going to make some changes, we're going to have to do the same."
The Celtics' game wasn't a must win, but it sure seemed like it.
Marcus Smart is still dealing with a sore back, but he played through it, and played well.
Jaylen Brown got so energized that he ripped his medical mask off in the heat of the game. He scored 22 points in the second half alone.
The C's bounced back from their game three loss to the Hawks, winning 129-121.
They're headed into Game 5, also up 3-1 in their series, but they're not taking anything for granted.
"This could possibly be our last chance having this opportunity, you know last year taught us that you don't get blessed or lucky too many times and you've got to grasp it and take full advantage of it and don't leave anything on the court," Smart said.
The Celtics play Game 5 on Tuesday, followed by the Bruins' Game 5 on Wednesday, both with a chance to win and move on to the next round.