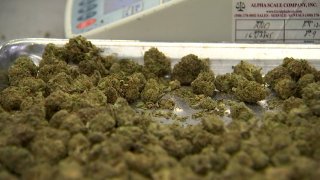 A Massachusetts lawyer was arrested on federal bribery and fraud charges Friday after he allegedly tried to bribe Medford's chief of police to get a company's marijuana business license approved.
Federal prosecutors and the FBI outlined the alleged "pay-to-play scheme," in which Somerville attorney Sean O'Donovan allegedly tried to give $25,000 to a relative of Medford's police chief, who served on the panel that considered applications for new marijuana establishments.
It wasn't immediately clear if O'Donovan had his own attorney who could speak to the charges of honest services wire fraud and bribery concerning programs receiving federal funds. He was due in federal court Friday afternoon.
U.S. Attorney for the District of Massachusetts Rachael Rollins commended the police chief for reporting the bribery attempt.
"We must ensure that greed and unethical conduct do not undermine the proper functioning of city governments across our Commonwealth," Rollins said in a statement.
O'Donovan was hired by the marijuana growing and sales company in 2018 to help get Medford's approval, prosecutors said, as the state began enacting marijuana legalization. The lawyer allegedly approached the police chief's relative with the $25,000 offer to speak to the official in February 2021, and the chief immediately told federal authorities about it.
The company, which was not named, didn't know about the scheme and rejected O'Donovan's proposal months later to hire the relative, according to prosecutors.
Local
In-depth news coverage of the Greater Boston Area.
"Today, the FBI arrested attorney Sean O'Donovan for allegedly engaging in a pay-to-play scheme in which he tried to capitalize on his insider access, in attempting to bribe the Medford Police Chief, for his own financial benefit," the FBI's top local official, Joseph Bonavolonta, said in a statement.
It's not the first time that federal corruption charges have been tied to marijuana contracts in Massachusetts. Last year, former Fall River Mayor Jasiel Correia was sentenced to six years in prison for stealing money from investors and extorting thousands of dollars from marijuana businesses.