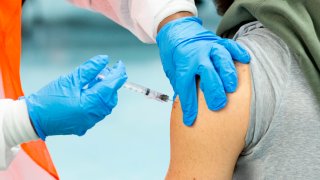 Registration for the next phase of New Hampshire's coronavirus vaccination plan got off to a quick start Friday, with nearly 150,000 people signing up in the first seven hours, Gov. Chris Sununu said. That's almost half the people who are eligible.
Registration opened at 8 a.m. for the approximately 325,000 people in phase 1B of the state's vaccination plan. That includes anyone age 65 or older, people with at least two qualifying medical conditions, corrections workers, and staff and residents of residential facilities for people with intellectual or developmental disabilities.
"Today's roll-out exceeded expectations and the teams across state government deserve immense credit for their role in making today such a great success," Sununu said in a statement. "Based on preliminary sign-ups we will be ready to hit the ground running and will vaccinate the hundreds of thousands of folks in Phase 1B as quickly as the federal government delivers it."
The easiest way to register is via the vaccine.nh.gov website. Those who can't schedule an appointment online can call the state's 2-1-1 hotline.
Those calling into the hotline early Friday were met with a 25 minute wait time, which dropped to under a 5 minute wait time by noon, state officials said. Ahead of registration, they had anticipated wait times of an hour or more.
Those who sign up online were told to expect an email about scheduling their appointments within three to five days. The first appointments will be scheduled for Tuesday.
What happens after that remains in flux, depending on how much vaccine the state receives every week and how many people want to sign up.
The state has been getting about 17,000 doses per week. At that rate, vaccinating the entire phase 1B group would take until late May. The state's current plan calls for starting the next phase in March, however, and state officials expect the vaccine supply to increase soon.